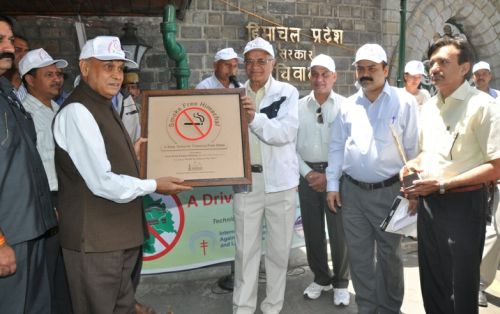 All District Headquarters in Himachal Pradesh qualify as Smoke Free. There is an effective compliance of Smoke Free Rules under Tobacco Control Act, 2003 in all District Headquarters as per the latest survey Report of Health Department. This was revealed by Chief Minister Prem Kumar Dhumal at the State Level Function of 'World No Tobacco Day' here today. On the occasion, he flagged off motor bike rally of youth carrying the message of ill-effects of consumption of Tobacco and its by products all over the State and also flagged off students rally to create an awareness amongst the people and motivate them to refrain from use of tobacco.
Chief Minister said that consistent endeavours of the State Government along-with the cooperation of people of the State had yielded positive results. He said that smoke free campaign had successfully been launched by the Health Department in collaboration with Himachal Pradesh Voluntary Health Association (HPVHA) and fulfilled norms laid down by the World Health Organisation. He said that capital town of Shimla had already been declared as Smoke Free town about two years ago. He said that Tashi Jong village in district Kangra had been declared as First Tobacco Free Village in the State. He said that tobacco products advertising were not permitted in any form. He said that the State Government was concerned about the health of the school children and had banned sale of tobacco and its bye products within the radius of hundred yards of the educational institution. He said that with a view to discourage Tobacco use VAT on tobacco products had been increased substantially.
Prof. Dhumal said that 54 lakh people were loosing their life due to consumption of tobacco products annually out of which eight to nine lakh were in India. He said that 38.5 percent male and 3.7 percent female use tobacco in Himachal Pradesh as per GATS 2009-10 Survey Report. He said that 90 percent cases of throat and mouth cancer were due to tobacco consumption. He made mass appeal to create awareness amongst all sections of the society about the hazardous impact of use of tobacco and products so as to build the healthy society. He appreciated the efforts of Health Department and HPVHA for launching health awareness campaigns throughout the State.
Dr. J.S.Rana of South East Asia International Organization welcomed the Chief Minister and said that it was proud moment to the people of Himachal Pradesh on its being all District Headquarters Smoke Free in the country. He said that it had been possible with the effective implementation of the Act supported by people in general.
Ajay Bhandari, Secretary GAD, J.R.Katwal, Director of Youth Services and Sports, Dr. D.S.Chandel, Director of Health Services, Gopal Sharma, Additional Secretary (GAD), Dr. Narender Sharma, Executive Director, HP Voluntary Health Association, Srinivas Joshi, Consultant of the Association, other senior officers and representatives from different organizations were present on the occasion.