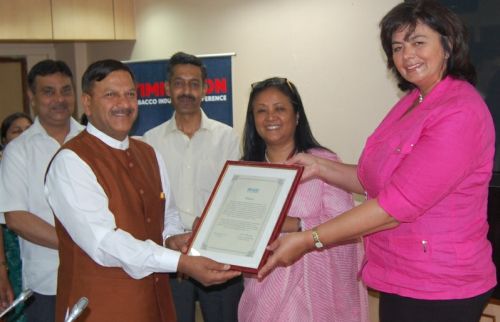 World Health Organisation (WHO) has conferred WHO- South East Asia Regional Office (SEARO's) Award-2012 to Himachal Pradesh Government for its outstanding achievements in Anti Tobacco campaign. The award was presented to Health Minister Dr. Rajeev Bindal by Dr. Nata Menabde the representative of World Health Organisation in a function organized by Ministry of Health, Government of India on World No Tobacco Day, 2012 at New Delhi today.
While speaking on the occasion Dr Rajeev Bindal said that Shimla City was declared Smoke Free by Chief Minister of Himachal Pradesh after the opinion poll and compliance of Smoke Free Rules last year with compliance of more than 90%. Followed which, the tobacco control activities were strengthened in all parts of the State. He said that Tashijong village in Kangra district has been declared as first Tobacco Free village in the country and added that according to latest survey all the district headquarters of the State qualified as smoke free as a result of effective ban on smoking in public places by the State Government. He said that so far 42,591 persons were fined in the State for smoking in public places during last three years and a fine of Rs. 55 lakh was collected from them and added that 137 cases were referred to the Courts. The funds collected will be used for anti-tobacco activities in the State.
He said that State has increased tax on tobacco products to reduce consumption of tobacco as a mandate of WHO Tobacco control policies. He said drug de-addiction centres (Tobacco Cession) has been established in all district hospitals with three bed facilities.
Dr. Bindal said sale of tobacco products would be banned in 100 yards radius of the educational institution in the state and the orders will be strictly implemented by next Gandhi Jayanti in the State. He said that emergency medical response system has been very effective in the state as a result of which the institutional delivery percentage has been increased to 71% from 49% in the past and added that at an average a patient is attended in 33 minutes time in the emergency medical response system (108 ambulance service) and added that 33000 women were shifted to government institutions for safe delivery through emergency system out of which 706 safe delivery were conducted by trained hands in the emergency response vehicles only. He told that 486 snake bite cases were transferred immediately to government hospitals through Atal Swasthya Yojna.
Speaking on this occasion Dr. Nata Menabde, World Health Organisation representative to India appreciated the Tobacco control work done by State Government during last three years and told that delegates of WHO would visit the State shortly to study the impact of smoke free areas and replicate Himachal success model in other parts of the country .