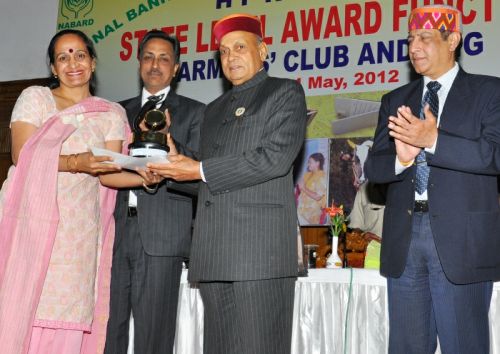 Chief Minister Prem Kumar Dhumal has requested the National Bank of Agriculture and Rural Development (NABARD) to withdraw the increased rate of interest over the loans being disbursed to the State for carrying out various infrastructure and rural development activities and expand the scope of loans to undertake developmental activities in agriculture, horticulture and cooperative sectors. He was addressing State-Level Award function at Hotel Peterhoff, here today.
Chief Minister thanked NABARD for providing loans worth about Rs. 3,500 crore to the State Government for infrastructure and rural development activities which had given boost to the pace of development in rural areas of the State. He said that with the lowering of the rate of interest to Special Category State, like Himachal Pradesh, undertaking more developmental activities would be possible. He said that it was heartening to note that Himachal Pradesh happened to be the only state for having major chunk, 90 percent of its population residing in villages and NABARD had contributed significantly in retaining rural population in their villages by making availability of all essential services to them locally. He said that Himachal Pradesh being hilly State had meager resources and vast to carry out developmental activities due to its difficult topography, where NABARD needed to lend its supportive hand. He thanked NABARD for the financial assistance provided for construction of 13,672 rooms under Sarswati Bal Vidya Sankalp Yojna during the year 1998-2003, at a cost of Rs. 126 crore, to ensure provision of minimum of three room accommodation in every primary school.
Prof. Dhumal said that progressive farmers in the State had overwhelmingly accepted the ambitious Rs. 353 crore Pandit Deen Dayal Kisan Baagwan Samridhi Yojna, by raising poly-houses and taking benefit of sprinkler and drip micro irrigation schemes, which had given boost to cultivation of cash crops including off-season vegetables and floriculture. He said that last year, the off-season vegetable contribution towards State Gross Domestic Product had increased substantially to Rs. 2,250 crore as compared to Rs. 900 crore by apple growers. He said that NABARD needed to consider proposals of the State Government to motivate farmers to adopt organic farming which could ensure remunerative returns to them. He said that organic Dairy Farming would also be beneficial to strengthen rural economy.
Chief Minister said that State had been successful in achieving number of milestones in development of the State with the help of NABARD which included completion of Harsipattan Bridge over Beas River benefiting 50,000 population of Kangra, Mandi and Hamirpur districts, at a cost of Rs. 18 crore. He said that Doodh Ganga and Bhed Palak Samridhi Yojna were other two schemes being implemented with the help of NABARD.
Chief Minister conferred awards upon 46 Banks, Institutions, NGOs connected with Micro Credit Self Help Groups (SHGs) and farmers' clubs which had performed excellently during past years and also congratulated them. He also released 'NABARD in Himachal Pradesh', a book brought out by the Bank. S.Roy, Chief Secretary laid stress on construction of cold chain to preserve the farm produce and urged Bank authorities to enhance the time limit of ongoing schemes. He also urged for reduction in rate of interest to give boost to infrastructure development in the State.
Naresh Gupta, Chief General Manager, NABARD, in his key note address by saying that 6,500 kms. of road length, 242 bridges had been constructed, 75,000 hectares of farm land reclaimed and 20,000 hectares more to be reclaimed by providing State finance of Rs. 3500 crore. He said that self help group movement in the State was vibrant and covered 6.50 lakh families. He said that the Bank had formed 2263 Farmers' Clubs and associated over 30,000 farmers covering 5,700 villages in the State with the help of banks, NGOs and SHGs. He said that NABARD had been an effective instrument for transforming the lives of rural poor, especially the rural women in the State. He said that NABARD had targeted financial assistance valued at Rs. 400 crore for current financial year to Himachal Pradesh besides loans available under other schemes of the bank.
P.M.Bhanot, Deputy General Manager, State Level Banking Committee also spoke on the occasion. Earlier, U.K.Mohanty, General Manager welcomed the Chief Minister and K.K. Saxena, Deputy General Manager proposed vote of thanks. Besides, Chairmen and Vice-Chairmen of various banking institutions, P.Mitra and Prem Kumar, Additional Chief Secretaries, R. Gurumurthy, General Manager, Reserve Bank of India, Heads of various Departments of the State and other stake holders were present on the occasion.