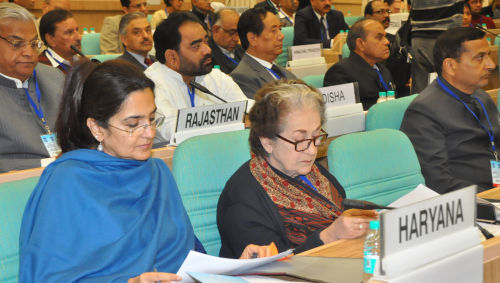 Irrigation and Public Health and Horticulture Minister Vidya Stokes urged the Central Government to provide funds to State under National Rural Drinking Water Programme (NRDWP) on 90:10 basis as per the policy of Government of India under other development programmes adding that although Himachal Pradesh has been accorded special category status, yet funds under NRDWP are being allocated on 50:50 basis.
Speaking during the National consultation with States on Rural Drinking Water at Vigyan Bhavan, New Delhi today she said that 8411 water supply schemes were providing potable water to a population over six million and most of them were based on local sources. The local sources were more prone to the adverse effects of climate change there by resulting in slippage of habitations and necessitating source level augmentation she added.
Stokes said that State Government had proposed construction of Mega Water Supply Schemes based on large perennial sources and three such schemes worth Rs.150 crore with Central assistance were being executed. She demanded from GoI to provide Rs 165 crore for construction of such eight more Mega Water Supply Schemes to take up execution of these schemes within a three years time frame which would benefit 1.50 lakh population.
Minister said that State had provided safe drinking water to 42476 habitations out of total 53201 habitations upto March, 2012. 2530 habitations were targeted to be covered during current financial year and all the remaining habitations would be provided safe drinking water by March, 2017 as envisaged in the 12th Five Year Plan she added. She said that 89.5% families in the State were using tap water which was 84.1% in 2001 census.
Stokes said that State Government was stressing on sustainability measures through rain water harvesting and it had been made mandatory for all Government buildings, institutional buildings, hotels and industrial units to construct rain water harvesting system. Optimum utilization of ground water and its conservation had been the priority and Government had enacted Himachal Pradesh Ground Water Act to ensure the same.