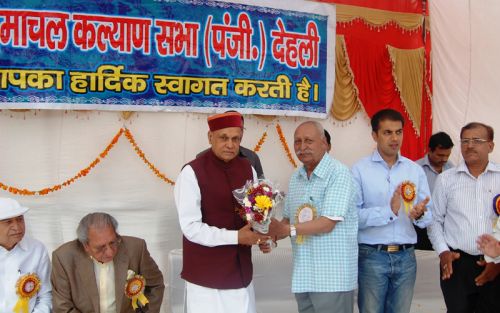 Chief Minister Prem Kumar Dhumal said that the vegetable production under Pandit Deen Dayal Upadhaya Kisan Baagwan Yojna had increased from Rs. 250 crore to Rs. 2200 crore annually in the State. He was speaking in a function organised by Himachal Kalyan Sabha at New Delhi today.
Chief Minister said that efforts were being made to improve apple production in the apple growing areas of the State by planting imported root stocks in order to upgrade the quality of production in order to bring it at par with the production of the developed countries. He said that free school uniform would be provided to 10.50 lakh students of Government schools of the State under Atal School Uniform Scheme. He said that the State had been adjudged first in implementation of 20 Point Programme since last three years consecutively in the country.
Prof. Dhumal said that the State had been adjudged best in implementation of various developmental projects sponsored by Asian Development Bank in Asia and the award had been conferred upon State Government by Asian Bank and Finance Ministry, Government of India at Pune.
Chief Minister said that qualitative improvement had been brought about in education sector and reputed institutions like NIFT, IIT, Food and Crafts Institute etc. were opened in the State so that students could get higher professional education at their door steps.
Prof. Dhumal said that the per capita income of the State had increased from Rs. 43000 to Rs. 73000 during last four years whereas State Gross Domestic Product had increased from Rs. 32000 crore to Rs. 63000 crore. He said that more than 50,000 registered small shopkeepers have been covered under Rs. one lakh insurance scheme and added that 2.77 lakh eligible persons were being provided social security pension. He said that more than 70 percent handicapped persons have also been covered under Social Security Pension Scheme.
Chief Minister said that free medical check ups of all the school going children was being conducted besides providing them de-worming tablets free of cost. He said that various industrial houses have also come forward to provide free treatment to school children and State Government would encourage their participation in this direction. He said that free ambulance service was being provided under Atal Swasthya Yojna and people of the State were being benefitted immensely. Dhumal said that it was matter of pride for the State that Himachal had been adjudged at par with Kerala and Delhi in Human Development Indicators according to the recent data of Planning Commission.