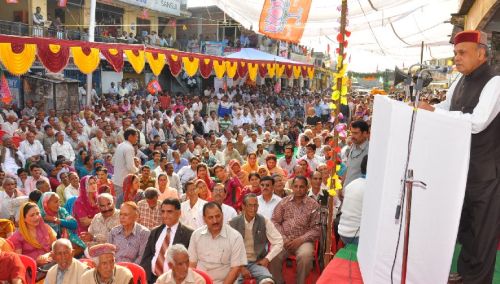 State Government would be spending Rs. 9,500 on each individual in 71 gram panchayats in Baldwara area on providing water with the completion of the Lift Drinking Water Supply Scheme for the area. Chief Minister said it while addressing a gathering at Baldwara, in Gopalpur Assembly segment in district Mandi, today, after performing 'Bhoomi Poojan' of Lift Drinking Water Supply Scheme for Baira, Bhadrota, Suranga and Hatli area in Sarkaghat Sub-Division of district Mandi, estimated to cost Rs. 2714 lakh. This would benefit estimated population of about 30 thousand people till the year 2028. He said that Rs. 99 crore would be spent over rain water harvesting scheme at Satyar and Rs. 85.50 crore for Thouna area. He said that Seer Khad channelization would also be carried at a cost of Rs. 24 crore upto Jahu. He said that Rs. 16 crore sewerage scheme for Sarkaghat was under construction; Rs. 59 crore being spent on improvement of Barchhwad-Jahu road while Rs. 94 crore were being spent over improvement of Ghumarwin-Sarkaghat road.
Chief Minister said that the State Government would consider opening of Government Degree College at Baldwara on priority to facilitate local students with higher education facilities. He said that Rs. 128 crore were being spent on road construction projects in Gopalpur segment during current financial year. He said that IPH schemes worth Rs. 105 crore were in progress in Gopalpur segment while schemes worth Rs. 120 crore were in the pipeline.
Prof. Dhumal said that four years of present term had been an era when every section of the society and every area of the State witnessed revolutionary developmental activities. He said that it was heartening to note that Himachal Pradesh was leading in the country not only in education, health, drinking water supply, connectivity, communication sectors. He said that Himachal Pradesh was proud to have an awakened galaxy of electors and were well versed with the development taking place in their areas. He said that politics had been an opportunity of service to the common man.
Chief Minister made an appeal to the people of the area to lend their supportive hand in checking the female foeticide to balance the sex ratio. He said that there has been substantial improvement in the female sex ratio but it was required to be brought at par with male child which was necessary to balance the social system. He said that the initiatives taken by the State Government would achieve its objective only when the common man was involved in creation of mass awareness in the society. He said that social security pension was the vision of BJP leadership wherein successive Congress regimes had not contributed. He said that 2,77,817 eligible old, widows and handicapped were being provided social security pension after it was increased from Rs. 100 to Rs. 200 and then to Rs. 330 which now, from April 1, 2012, had further been increased to Rs. 400 per month. He said that every eligible person would be extended social security pension cover. He said that the honour of Nambardars was also returned by providing them Samman Rashi in recognition of the services they had been rendering towards their people. He said that 75 families of SC BPL category in each of the assembly segments of the State to providing of 50 percent subsidy on LPG connection and in many segments distribution had been completed. He said that free denture under 'Muskaan' yojna had been introduced for deserving senior citizens. He made an earnest appeal to the awakened society to save young children from falling prey to drug peddlers and channelise their energy towards positive activities. He said that Rs. 50 thousand were being provided to each of the gram panchayats for setting up of gymnasiums in the State. He said that the State Government would be presenting an Award of Rs. 1.00 crore to any Himachali winning Gold for the country in the forthcoming Olympics in London; Rs. 50 lakh for winning Silver Medal and Rs. 25 lakh for Bronze Medal. He announced upgradation of GHS, Kotli Dhalwan and Khanot to GSSS and GMS Chouri to GHS.
Earlier Chief Minister dedicated 9 kms. long Paplog-Kharoh—Dhanrashi-Mortan-Kangu Ka Gehra road in Dharampur assembly segment of district Mandi, completed at a cost of Rs. 2.26 crore to benefit over one thousand population in the area.
Chief Minister also listened to public grievances after the public meeting.
Col. (Rtd) Inder Singh, local MLA, welcomed the Chief Minister to his home segment and thanked him for providing an ambitious drinking water supply scheme to the villagers of the area. He thanked CM for starting work on various road projects valued at Rs. 110 crore in his home segment where the work was in progress. He said that funds had never been any constraint in carrying developmental works during BJP regime. He said that 33 KV Sub-Station was being set up at Kalkhar and 132 KV sub station was being constructed at Balwara to solve low voltage problem of the area. He thanked for providing Rs. 90 lakh for each of seven science blocks in GSSSs in the area. He apprised CM of various developmental requirements and urged him for upgrading the different educational institutions in his segment.
Ravinder Singh Ravi, IPH Minister, Mohinder Singh Thakur, Transport and Urban Development Minister, Devesh Kumar, Deputy Commissioner, Abhishek Dullar, Superintendent of Police, Vijay Chandan, Director of Technical Education, Ashok Sridhar, Chief Engineer, IPH, other senior officers, were also present on the occasion.