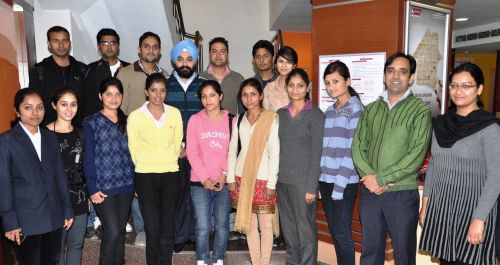 As a part of industrial training, a group of 15 MBA students from Shoolini University visited Axis Bank Solan Branch to learn practical banking operations and to understand the career opportunities in retail banking. This educational tour was mutually organised by Axis Bank and Shoolini University in order to guide and motivate MBA students to choose retail banking as a career.
Gagan Deep Khurana, the branch head of Solan branch of Axis Bank explain the Banking operations being carried by a bank. During the tour students were taught real banking operations in live banking atmosphere during the actual banking hours. Each bank officer at Axis Bank interacted with the group of students, and described the methods and procedures of retail banking.
These MBA students learnt about types of bank accounts, procedures of availing loans, internet banking operations, investment options, cheques & draft clearance systems and about many other services provided by Axis Bank. They were also shown the locker and cash vault room and were given knowledge of security systems adopted by bank. While personally interacting with MBA students of Shoolini University, Gagan Deep Khurana explained the various career and job options available in banking sector in India.