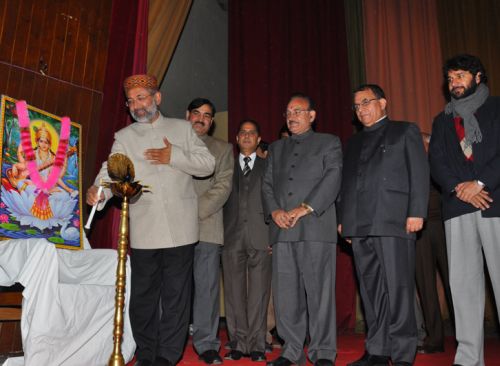 Himachal Pradesh State Legal Authority, Art, Language and Culture Department, Public Relations Society of India, Shimla chapter and SEWA Trust organised a Public Colloquium on "Fundamental Duties-Protection of Public Property and Adjure Violence" at Himachal Pradesh University. All representatives valued the power of non violence and urge to shun violence and not destruct the public property.
Chief Justice of Himachal Pradesh High Court Justice Korien Joseph presided over the Public Colloquium and pressed the need to create awareness amongst the masses towards their duties and added that organizing of the public colloquium was a step in this direction. He said this was the ninth public colloquium in the series on fundamental duties. Justice Korien Joseph said that to have public representatives to express their views on this vital subject concerning all was a unique endeavore. He urged them to express their stand on destruction of public property and almost everyone was not in favor of destruction of public property.
Justice R.B.Mishra, Judge of High Court and Executive Chairman of State Legal Authority welcoming the participants, detailed about the legal aid being provided by the authority for various sections especially the poor. Justice V.K.Sharma, Judge of High Court in his keynote address, dwelt upon various aspects of " Fundamental Duties-Protection of Public Property and Adjure Violence" by citing various decisions of the judiciary. He also stressed upon abiding by the duties towards the Nation.
Director Art, Language and Culture Dr. Prem Sharma was honored by the Chief Justice on behalf of the organizers for his services rendered for the success of the event. Kaul Singh Thakur, MLA and President HPCC, Suresh Bhardwaj, MLA BJP, Tikender Panwar, State Secretary CPM, Vijay Nayyar, State Present BSP, Dr. Vikram, State Secretary SFI, Sanjeev Walia, State General Secretary NSUI, Naveen Sharma, State Organising Secretary ABVP also spoke on the occasion and expressed their views on the subject.
An inter-active session was also organized in which Chief Justice and other members of the panel replied to the questions raised on the subject. Vepa Rao from Sewa Trust and B.D.Sharma,Director Public Relations and Chairman PRSI Shimla Chapter were also present among others on the occasion and gave their invaluable opinion.