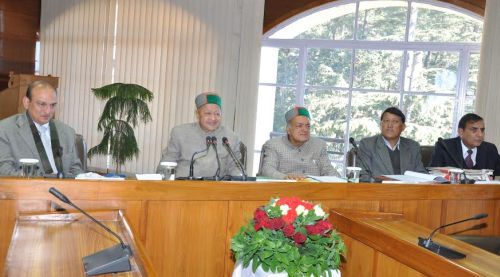 Shimla: The Simbalwara National Park near Paonta Sahib in Sirmour district will be renamed as Sher Jung National Park and possibilities will be explored to develop it as a Tiger & Elephant reserve besides butterfly garden to attract more wildlife lovers to this place.
The decision was taken in 6th meeting of State Board for Wildlife here, today, which was presided by Chief Minister Virbhadra Singh.
Late Col. Sher Jung, who hailed from Nahan, was a great freedom fighter and hunter turned conservationist. Chief Minister said that to name Simbalwara National Park on his name would be an honour to him. He said that a Sub-Committee would be constituted to deliberate and give suggestions to improve the wildlife habitats besides boosting eco-tourism in the State.
Chief Minister said that nature had bestowed Himachal Pradesh with rich flora and fauna which include some rarest species in the world and it was the duty of every citizen to protect the rich bio-diversity of the State. A complete ban on green felling was imposed in mid 80's by his government, likewise, a complete ban on hunting of wild animals was also imposed which still was being followed strictly. He said that these steps had helped in conservation of valuable green cover and protecting wildlife of the State.
Virbhadra Singh said that about 15 per cent of the total geographical area of the State had been brought under Protected Area Network (PAN) while National average was about four per cent. He said that rationalization of boundaries of National Parks and Wildlife Sanctuaries was done and 775 villages had been excluded thereby benefiting a population of over one lakh in the State. At the same time, wildlife area had increased from 13 per cent to 15 per cent.
Chief Minister said that efforts were being made to conserve the rich flora and fauna of the State. Effective steps were taken to protect State Bird Western Tragopan, State Animal, Snow Leopard, Cheer Pheasant, Monal and Vultures etc. He lauded the efforts of the State Forest Department for successfully breeding the rare endangered Western Tragopan in captivity at Sarahan in district Shimla which was a pioneer effort in the world. He said that 27 Western Tragopans have been bred at Sarahan Pheasentry.
Chief Minister awarded Narayan Datt Award for conservation of nature to Dilbag Singh and Virender Sharma, Forest Guards, Mukesh Dhiman, Bird Watcher, D.S. Dhadwal, ACF and A.K. Gulati, former PCCF Wildlife for their meritorious services.
Forest Minister Thakur Singh Bharmouri said that there were two National Parks and 33 Wildlife Sanctuaries in the State but after rationalization, now there were five National Parks, 26 Wildlife Sanctuaries and three Conservation Reserve. He said that Rupees five crore were being spent to eradicate lantana in the State. He said that Brown Bear Conservation Project and second phase of conservation breeding of Western Tragopan would be started in district Chamba.
Principal Secretary Forest, Tarun Shridhar thanked the Chief Minister and Forest Minister and other Members of Board including MLA Mohan Lal Brakta, Vijay Bhushan, Ashish Dass Gupta, Rattanjeet Singh and Vice Chairman Himachal Forest Corporation Kewal Singh Pathania for attending the meeting. Representatives of Wildlife Institute of India, Botanical Survey of India, Zoological Survey of India and senior officers of the State Government were also present on the occasion.
Principal Chief Conservator of Forests (Wildlife)-cum-Chief Wildlife Warden Dr. Lalit Mohan welcomed the Chief Minister and gave a detail presentation of the activities being carried by the department.