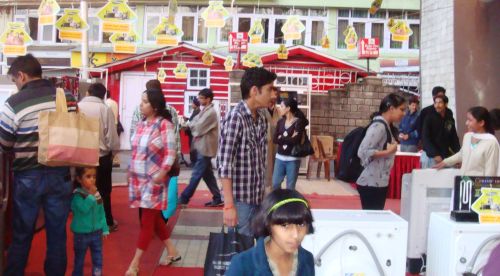 During the on-going festival season of Dhantryodash and Diwali, "Samsung Smart Utsav" going on at Mall Road, Shimla is pulling crowds from all over Shimla and its adjoining areas. Diwali special Samsung Smart Utsav is going-on at three locations on Mall Road, Shimla: (1) Indira Gandhi Sports Complex – near Lift, (2) On roof top of Rotary Town Hall, and (3) at Samsung's exclusive shop –Sanjeev K & Company.
At this Samsung Smart Utsav, people of Shimla purchasing any Samsung LCD, LED or PDP Flat TV are getting any one of the following fabulous assured gifts: 50 Blockbuster DVD Pack, 3D titles, DVD Player, Blu-ray player, 3D glasses and even a Samsung Soundbar. On purchase of Samsung Refrigerator, Washing Machine, Microwave Oven, Air Conditioner, Flat TV, Digital Still Camera or Camcorder, consumers are getting assured cash back on their purchase, in denominations between Rs.200 to Rs.15,000.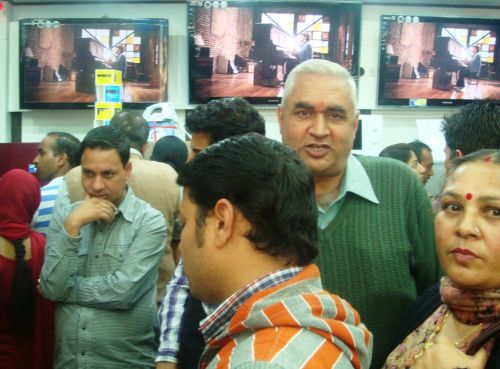 Furthermore, consumers purchasing any Samsung Audio-Video system or Home Appliance product are participating in the daily Samsung Smart Home Bumper Prize for a bouquet of Samsung products worth Rs.100,000; Rs.50,000 or Rs.25,000. Consumers need only to SMS 'Samsung', their name and the product serial no. to 54542 to win one of the 24 Smarts Homes being announced every day. Samsung is giving away over 1080 Smart Homes during Samsung Smart Utsav.
Diwali special – Samsung Smart Utsav at Mall Road, Shimla is attracting residents not only from Shimla city but also from smaller towns and villages from all parts of district Shimla, Kinnaur, Bilaspur and Solan. Samsung laptops and computers are the biggest crowd pullers, which are attracting young generation of Shimla. During Samsung Smart Utsav, all products of Samsung are available on interest free installment plan, also.