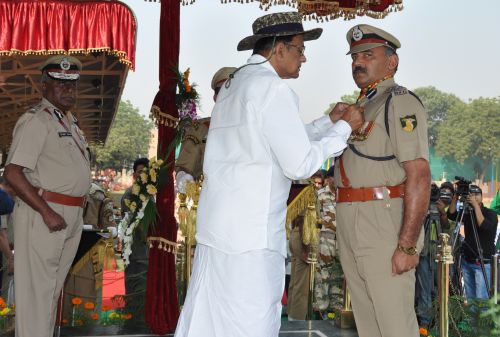 DIG S.S Harta ITBP has been conferred with President Police Medal for Distinguished Service for the year 2011. Home Minister P. Chidambaram today presented President Police Medal to D.I.G S.S. Harta during raising day function of the I T B P held in New Delhi today .He is presently heading Anti Naxal Operations in the highly sensitive Rajnandgaon Distt in chhatisgarh especially along the Chhatisgarh –Maharastra Border and is instrumental in effective operational planning and execution of anti naxal operations, which has yielded significant results in recent times. DIG S.S.Harta, ITBP belongs to Village Tilri, P.O. Banchhuna, Rohru Distt. Shimla (HP).
DIG Harta represented India in 1st Indian Police Contingent to UN CIVPOL Mission in Bosnia in 1996-97 where he performed in the capacity of Officer on duty in Grievance Cell and as Regional Human Rights Officer. Shri S.S.Harta created a history in ITBP, when the ITBP marching contingent under his command was adjudged as the ' Best Marching Contingent' amongst CPOs and state Police Organisations during the Golden Jubilee Year celebration on Republic Day Parade-1998. S.S Harta dedicated officer who commanded battalions in sensitive areas along Indo-China border. For his meaningful and substantial contribution to the Force, he has been awarded with 43 appreciation and 7 commendations medals which include Antrik Suraksha Seva (J&K)-2002, UN Medal, Ops Vijay, 50th Independence Anniversary Medal, Police Special duty Medal, Indian Police Medal for meritorious service etc.
He had two successful and eventful tenures in Kashmir Valley and was actively and intimately involved in combating terrorism and militancy during peak militancy period. In 1989-90, He commanded a Commando group of ITBP, which was deployed for specialized operations in the down town areas of Srinagar city. Due to the professional acumen, fearless personality and boldness, he survived many attempts on his life while combating terrorism and militancy in the valley. During his second tenure in 1999-2001, he was the first officer amongst bank security units of Punjab to move and deploy the first group of about 280 men for CI Ops in valley and organized smooth and effective deployment of 22nd Bn. in Quazigund area.