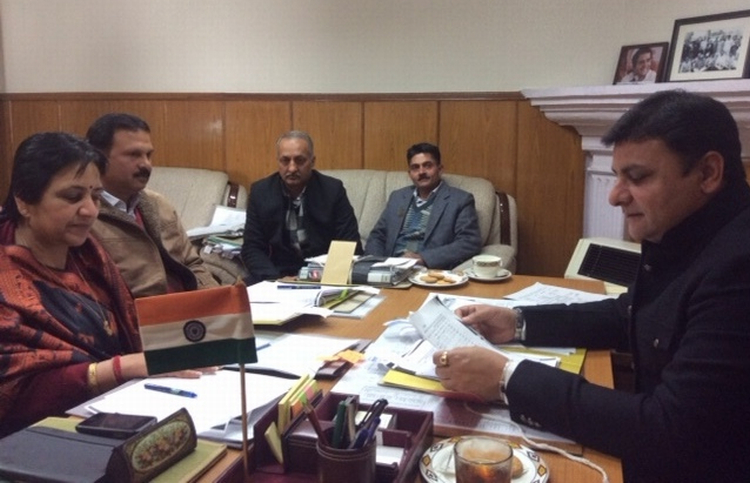 In a review meeting of the Town and Country Planning department today, Urban Development & Town and Country Planning Minister Sudhir Sharma revealed that the State government has decided to identify and add few more green pockets in the Shimla town to the existing 17 green pockets so that ban could be imposed on construction activities in surrounding areas of the town and keep the green cover intact.
The Minister said that the department had taken various decisions to facilitate the people of the State in construction activities and the procedure had also been simplified.
Sudhir Sharma said that in rural areas the bonafide residents had been allowed to carry out development activities subject to fulfillment of self implied regulations for construction of residential buildings and farm houses upto 600 M2 floor area with one extra parking floor and commercial buildings with 100 M2 floor area with minimum set back of two meters in front and 1.50 metres in rear and sides from the adjoining property.
He said Panchayati Raj Institutions had been given powers to issues No Objection Certificates (NOC's) for obtaining service connections in exempted rural areas wherein public adhere to self implied regulations. The government has also reduced the planning permission fees by half whereas the economically weaker sections, BPL and Rashtriya Awas Yojana beneficiaries had been fully exempted from paying change of land use as well as planning permission fees. On the other hand, the bonafide residents of the area also need not to pay change of land use fee for residential activity.
The Minister said that the change of land use fees for industrial use had been reduced by half as per the assurance made by the Chief Minister in the Vidhan Sabha. Overall increase in floor areas ratio (FAR) for industrial units had been approved i.e. from 1.50 to 1.75, 1.25 to 1.50, 1.00 to 1.25 and 0.90 to 1.00. Besides, the height of buildings had been increased for organized housing projects across the State. Now, it would be 25 meter in hill areas and 30 meter for plain areas. This decision would help promoters to achieve the permissible FAR and also to leave sufficient areas under parking and open spaces.
Sudhir Sharma said that multi level parking for government, public undertaking buildings and commercial buildings and two parking floors, if feasible for others had been allowed over and above the prescribed FAR. The regulations for installation of Communication Towers have been notified and all the spatial plans being prepared on GIS format.
The Minister gave directions to the officers to respond to the public grievances immediately.
Principal Secretary, TCP Manisha Nanda, Director, TCP Sandeep Kumar and other senior officers of the department were also present in the meeting.