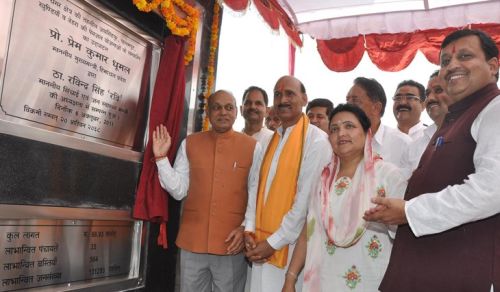 Chief Minister Prem Kumar Dhumal dedicated the biggest rural drinking water supply augmentation scheme in Changer areas of Kangra district at Kangehan covering tehsil Dehra, Khundian, Jaisinghpur and Palampur completed at a cost of Rs. 68.33 crore. It would benefit 1,31,293 population of 564 habitations in 35 gram panchayats besides augmenting 27 existing schemes in the area and would provide 70 litres of drinking water per person per day in Jaisinghpur Sub-Division of district Kangra. It had been completed in a record time of three years.
Addressing a large public meeting at Kangehan, Chief Minister said that completion of scheme had cost Rs. 5,098 each person. He said that the State would be honouring the officers and officials for contributing significantly towards the development of the state and for completing the projects ahead of its scheduled date. He lauded all those engaged in construction of the scheme for saving of Rs. 1.40 crore.
Capt. Atma Ram, MLA from Rajgir, welcomed the Chief Minister and thanked him for dedicating a land mark drinking water supply scheme to the people of the Changar area which had solved a long pending demand of water supply to the people in the area. Sarveen Chaudhary, Social Justice and Empowerment Minister, Virender Kanwar, Chief Parliamentary Secretary, Sanjay Chaudhary, MLA, Vikram Thakur, Vice Chairman, State Forest Corporation, M.C.Parmar, CMD, Ex-Servicemen Corporation, Shri Rasil Singh Mankotia, Chairman, Kangra Central Cooperative Bank, Pyare Lal Sharma, Chairman, APMC, Shreshta Koundal, Chairperson, Zila Parishad, R.S.Gupta, DC, Diljeet Thakur, SP, R.K. Sharma, E-in-C, IPH, M.S. Kanwar, Chief Engineer, IPH, Dr. M.P.Sood, Secretary, HPSEB Limited, other prominent persons were present on the occasion.