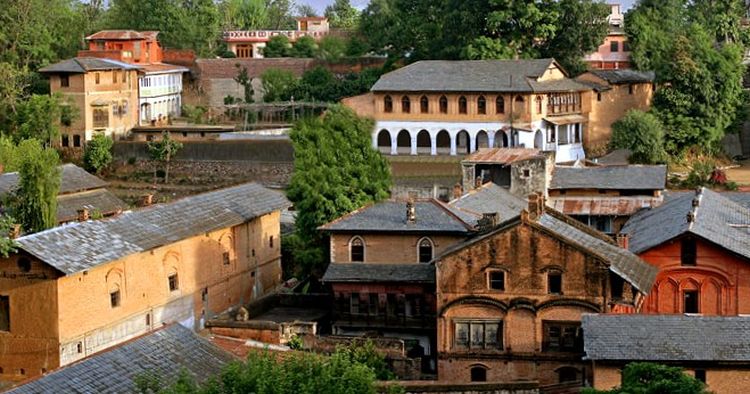 The old-fashioned yet appealing village located in Himachal Pradesh's scenic valley of Kangra, Paragpur is the first heritage village of India certified by the state government in 1997. The small village founded in the 16th century by the Kuthiala Soods in memory of Princess 'Prag Dei' of the Jaswan Royal family is India's first heritage village, which is also renowned for Kangra School of Paintings.
Located at an attitude of 2000 ft above sea level, Paragpur ideally suited to explore Kangra valley is home to many places of historic, religious and cultural importance within easy reach.
Why is Pragpur called the first heritage village of India?
The first heritage village of India, Paragpur was named after Princess Parag Die, who revolted against the Mughal Empire. Ruled by both Mughals and British, this village very well sustains its distinct cultural values throughout the process. In December 1997, it was declared as the country's first heritage village mainly because the locals have still held to the same roots and heritage. Most of the places like shops, streets water bodies and houses remain in their places unchanged, affected.
Reasons why you should visit Pragpur
Still an excellent exhibition of the good old times, Paragpur and its local residents have made sure to keep its cultural heritage intact. The unspoiled looks not only tell the ancient glory of the village but also times and civilizations it has seen a rise and fall in front of it. The Paragpur heritage committee makes sure that it stays the same and does not lose its charm. This has turned out to be a great source of employment for locals. One can easily see the unaffected shops, cobblestone streets, old water tanks, mud-plastered walls and slate-roofed houses, giving you chance to relive our old history.
Accessible in all seasons and year-round, January and September are the best months to visit this place. Lohri and Nakki ka Mela (Wrestling) that steer the festive spirit of the village are two happy times celebrated in high spirits by locals.
Nearby attractions
Taal: Taal or pond forms the core of Pragpur village and serves as a recreational space for young and likeminded people. Founded in 1864 AD, it is surrounded by historical structures like Nehar Bhawan (250-year-old) and Naun (dating back to 1864). The committee, which has been recording its meeting since 1864, is responsible for the maintenance of the ancient water system.
Judge's Court: The splendid country manor supporting Indo-European tradition design belongs to visionary Justice Sir Jai Lal. Standing in 12 acres of green land, the manor is now converted into a heritage hotel managed by Vijai and Rani Lal. The two-storey brick-red mansion has six spacious rooms furnished with period furniture and paintings.
Butail Niwas: Constructed by Lala Buta Mal, a descendant of Chaujjar Sood clan, the Butail Niwas highlight the perfect blend of North Indian and colonial architectural styles. The building with six identical apartments was constructed for his six sons. The house towered by red-brick outer walls and beautifully carved wooden doors still highlights the golden time.
Dada Siba Temple: Situated approximately 22 km from Paragpur, the temple dedicated to Radha Krishna is an ancient temple famous for its murals. Started by Raja Gobind Singh and completed by Raja Ram Singh, the walls and ceilings are covered with Lord Krishna legends.
How to reach Pragpur?
By air: If planning to go by air, then Gaggal airport is 45 km away and Amritsar International airport is 170 km away.
By rail: An overnight train known as Himachal Express connects Delhi with Una. Pragpur is 60 km by road from here. There are various trains that connect Delhi with Pathankot, which are further connected with narrow gauge Kangra railway line to Guler (30 km away). From Guler, bus or taxi transportation is available.
By road: Chandigarh and Amritsar are at a driving distance from Pragpur.
So whenever you come and visit Paragpur to travel back in time to evoke the nostalgic sense of magnificence and glory of history, you will see how well this small, old-fashioned village is preserved.