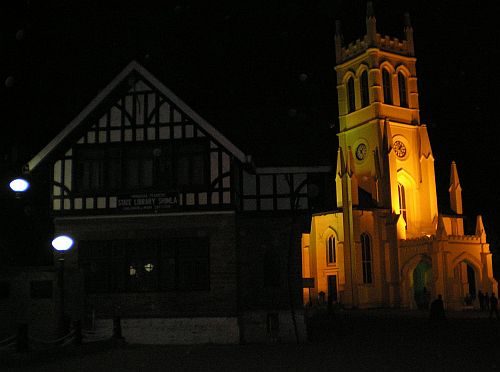 Himachal Pradesh Tourism and Civil Aviation Department would be working out modalities to offer a special tourism package to ten senior citizen couples in the State besides providing rebate on room tariff and food in HP Tourism Development Corporation hotels and restaurants in the State besides considering Senior Citizen Policy. This was announced by Chief Minister Prem Kumar Dhumal on the State Level World Tourism Day celebration jointly organized by the Department of Tourism and Civil Aviation in association with the Age Care Association of India, Himachal Pradesh Chapter.
Chief Minister thanked the senior citizens for the contribution they had made towards the state in different capacities they served. He said that the State was gaining out of the experience of its senior citizens who were guiding force behind carrying various developmental and social welfare activities. He said that Himachal Pradesh had emerged as favorite destination as the tourist inflow to the State had increased to 17 percent compared to 12 percent at the national level. He said that the State had record 1.32 crore tourists during preceding year which included 4.53 lakh foreigners. He said that the State had 2100 registered hotels with 23,000 rooms and over 55,000 bed capacity besides availability of seasonal camping accommodation at different destinations of the State. He said that the number of visitors was increasing with every passing year and the State Government was working over the 20 Year Tourism Master Plan to attract high end tourists and prolong the stay of visitors to the State by creating additional infrastructural facilities for their memorable holidays. He said that the State Government was encouraging public-private participation in creation of quality tourism infrastructure to facilitate visitors with higher paying capacity.
Chief Minister said that about 370 units had been registered in rural, far flung and tribal areas of the State under Home Stay Scheme which were free from any encumbrances and tourists were shifting their holidays from urban, semi-urban to rural and tribal areas to spend time with their families in complete harmony with the nature. He said that the coffee table books 'Har Ghar Ki Kahani' and 'Incredible Himachal' were gaining popularity with the visitors and of late the State had launched 'Har Gaon Ki Kahani' to acquaint tourists with the rural life style and historical facts related to different villages. He said that the State had succeeded in procuring Rs. 428 crore Asian Development Bank loan for giving facelift to the tourism sector. He said that the Heritage Museum in US Club had emerged an attraction to the tourists visiting Shimla.
Chief Minister underlined the need for change in the mind set of the people with regard to respecting their elders, especially senior citizens who had always been a guiding force to the young people. He said that due courtesy and respect should be extended to the senior citizens and benefit taken of their experience to make life successful. He said that the State Government were extending many services to the senior citizens and was committed to look after their welfare. He added that face lifting of the Mall would soon be carried to make the capital town more clean and beautiful besides renovating the Municipal Corporation building at a cost of Rs. 17 crore. He said that the historic Gaiety Theatre building had already been renovated at a cost of over 14 crore to emerge a landmark in the town. He said that the repair work of the damaged roads would be carried on war footing and best sanitary conditions maintained all over the State.
Chief Minister honoured Brig (Rtd) Ram Singh, Dr. Rama Mukand, Smt. Sood, Susheel Tanwar, on behalf of the Age Care Association and various hotels in the town for paying maximum tax to the State. He also released the 'Shimla an Abode for Senior Citizens' published by Dr. V.K.Sharma and Dr. Manorma Sharma.
MLA Suresh Bhardwaj congratulated the organizers for organizing the World Tourism Day. He thanked Chief Minister for making Shimla plastic and smoke free. He apprised Chief Minister of various demands of senior citizens. Manisha Nanda, Principal Secretary Tourism, welcomed the Chief Minister and said that every 12th person in the country was directly or indirectly linked with tourism. She said that the tourism sector was contributing about 9 percent to the State GDP which Department aimed to enhance to 10 to 15 percent. She said that the Department was educating visitors 'Do not destroy what ever you have come to enjoy' slogan to preserve the rich heritage. She said that state wide tourism day celebration was taking place by associating different sections of the society. Srinivas Joshi and Raja Bhasin, renowned writers also shared their experiences. G.K. Nag, President, Age Care, welcomed the Chief Minister and dignitaries and delved upon various problems being faced by the senior citizens. He said that experience of senior citizens could be beneficial for tourism promotion. K.K. Pant, officiating Director of Tourism and Civil Aviation, Sri Onkar Sharma, Deputy Commissioner, Vineet Kumar, Managing Director, HP Tourism Development Corporation, senior officers of other departments and prominent citizens of the town were present on the occasion.