Sarahan: Wildlife Wing of Himachal Pradesh Forest Department celebrated its First Bird festival at Sarahan. The five day event held from November 1 to November 5 was organized by wildlife division Sarahan and acknowledged Himachal's rich avian diversity. The festival also sought to popularize birding both as a hobby and a tourist activity in Himachal Pradesh.
Chaired by the Chief Wildlife Warden (CWW) Himachal Pradesh Dr. R.C Kang, the event saw intermingling of foresters, amateur birders, bird photographers as well as researchers. Beginning with the three day birding trail in Daranghati Wildlife Sanctuary from November 1 to November 3, the event culminated into a birding discourse on the last two days with talks scheduled on developing birding as a hobby, intricacies of bird photography, bird diseases, bird ringing, e-birding etc. The participants recorded about a hundred bird species in Daranghati during the 3 day trails.
The festival also saw release of some important documents. The first ever consolidated checklist of birds of Himachal Pradesh was released during the event. The checklist comprises of 657 bird species, a major improvement over the previous works that list about 400 odd species. As per the checklist, Himachal Pradesh holds about 52% of the total bird species found in India, a fact that highlights the rich avian diversity of the state. The annual report of Sarahan Pheasantry was also released during the event. The Western Tragopan Conservation Breeding Programme at Sarahan (Sarahan Pheasantry) saw the record birth of 8 birds this year, a development that was hailed by the participants. Wildlife Wing also came out with a souvenir on Wildlife Conservation in Himachal Pradesh. The souvenir highlights the conservation efforts of state forest department, apart from giving basic information about some of the Wildlife Sanctuaries of the state. A brief report on Wildlife Week celebrated last month across the state was also releases during the festival.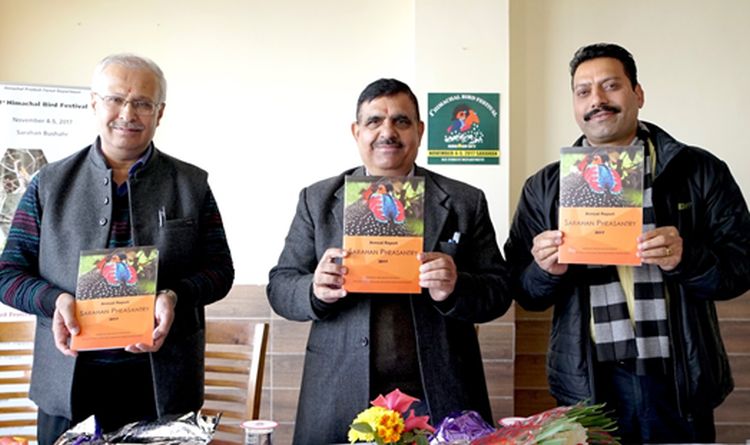 Speaking during the event, the CWW congratulated Sarahan Wildlife Division for coming up with the idea of organizing the inaugural state bird festival. He thanked the participants for coming from far and wide and urged them to have a free-flowing interaction during the course of the event. Chief Conservator of Forests (CCF-WL-South) Dr. Sushil Kapta who also chaired the event hailed the bird festival celebration as a landmark beginning, and wished further expansion in the coming years. Joint Secretary (forests) Satpal Dhiman emphasized the need of organizing such festivals for disseminating the ideas of diversity and conservation far and wide.
Experts from IIT Mandi gave a brief presentation of their ongoing work on photo-recognition of birds by developing an app for the same. Dr. L. Narasimha, zoobiologist with HP Forest department gave a detailed account of eBird, the online and offline birding app designed to aid the birders with record-keeping. Finally, a hands-on session on bird ringing by experts was organized for forest guards and school students at Sarahan Pheasantry.