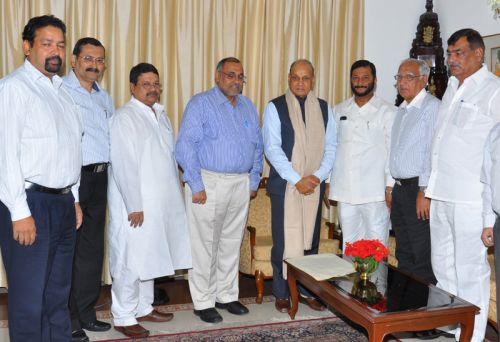 The Rajya Sabha Committee headed by Birender Baihya, MP accompanied by Sarvshri Shadi Lal Batra, Narendera Budania, Moinul Hassan, Avinash Khanna, MPs which is on visit to the State to study implementation of MNREGA called on Chief Minister Prem Kumar Dhumal.
Chief Minister urged the Committee to suitably modify provisions of MNREGA suitable to local conditions. He said that State Government was implementing MNREGA as per the guidelines of the Government of India and various local development projects were under execution in the State. He said that as per the guidelines the budgetary provisions were being spent on 60:40 ratio on labour and material components, which required to be modified giving preference to labour component. He said that with the modification in the provisions more rural people would be benefitted with employment near to their homes. He informed the Committee that the farmers of the State were suffering heavily due to the wild animal and monkey menace which was destroying the farm crops of the farmers resulting into abandoning cultivable land by them and drastic increase in the fallow land. He said that although the State Government was taking all precautionary measures to check the wild life menace and sterilization centres set up at four places in the State to contain monkey menace. He said that the long planned strategy to control it would take time hence the State Government had recommended to engage guards to protect the farm land and crops therein. He said that the proposal would be covered under labour component of the scheme and seasonal employment would be available to the rural people.
Dhumal welcomed the decision of providing Rs. 25 lakh for the construction of Panchayat Bhawans under the scheme. He said that with the new provisions adequate accommodation would be available to carry gram panchayat activities conveniently. He said that the State Government was providing all help for development of panchayati raj institutions out of its own budgetary provisions. He said that the State had successfully implemented the 50 percent reservation roster to women in panchayati raj institutions and elected women members were contributing significantly towards development of the panchayat they represented. He said that more powers were being given to the panchayats by decentralization of powers so that maximum of developmental planning was carried at the grass root level. He said that majority of social welfare schemes were being implemented through panchayats by selecting the really deserving beneficiaries under different poverty alleviation schemes. He urged the committee for recommending liberal finances to strengthen the gram panchayats so that all its activities were carried more conveniently.
Chief Minister welcomed the committee to Himachal Pradesh and hoped that the State would get benefitted with their visit and the genuine grievances of the State would be represented by the members at the Government of India level.