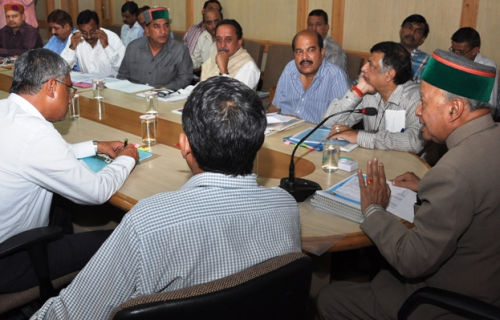 In a review meeting of Department of Cooperation and Cooperative Institutions, at Shimla, Chief Minister Virbhadra Singh stressed the need of strengthening Co-Operative Movement in the State. He said that Cooperative movement started at Panjawar of Una District in the year 1892 and presently more than 4700 cooperative societies with membership of 15.35 lakh were functional in Himachal Pradesh.
Singh revealed that working capital of cooperatives was over Rs. 17588 crore and deposits were over Rs. 13353 crore upto March 2013 at the closing of this financial year. He said that sale of consumers goods was Rs.1312 crore while fertilizers worth sold Rs. 197 crore were sold during this period.
Chief Minister said that total Share Capital of Primary Agriculture Cooperative Societies was over Rs.100 crore while consumers goods worth Rs. 779 crore were sold through 1891 fair price shops in the State. He said that all Urban Cooperative Banks viz. Baghat, Shimla, Parwanoo, Mandi and Chamba were doing good business and serving the common people.
Virbhadra Singh said that Government of India(GoI) had implemented more that Rs. 3000 crore handloom revival package for individual as well as Weaver Cooperatives and Rs. 6.6 crore have been provided to 65 Weavers Cooperatives in the State.
Chief Minister said that new initiatives were being taken under diversification and expansion of activities of cooperatives societies. He said that in order to promote dairy activities and general employment and income resources to public a Dairy Project for chilling and processing of milk and its products with an estimated cost of Rs. 1.53 crore would be set up at Dadhol in District Bilaspur. A modern grading and packaging unit with capacity of 550 boxes in 8 hours shift would be set up at Jubbal with an estimated cost of Rs. 23 lakh besides another such units set up at Kumarsain in Shimla district, he said.
Virbhadra Singh said that with a view to provide storage grading and packing facilities to the flowers and vegetables alongwith marketing through refrigerated van a project of Rs. 63 lakh would be initiated at Jubbarhatti near Shimla. In order to promote herb cultivation a project of Rs. 35 lakh would be set up at Hamirpur to facilitate processing and marketing of herbs such as Aloevera, Behra, Amla and Haldi etc. A project of Rs. 78 lakh would be set up at Palampur in District Kangra to manufacture potato chips and bhujia etc. Besides modern machineries for hygienic food processing and packaging at a cost of Rs. 8.50lakh.
Chief Minister said that with a view to promote tourism in and around Pong Dam area a project of Rs. 51 lakh would be set up at Fatehpur in Kangra District while Rs. 7.40 lakh would be spent to promote herbs cultivation on wasteland of farmers and Government through cooperative efforts. He said that an ice factory would be setup at Dehra with a cost of Rs. 49 lakhs to keep fish catch fresh for longer period and to cater the local demand of ice in the area. He said that to promote tourism around Banjar area luxury based tents upto 10 men capacity including equipments for rock climbing for river crossing and fishing facilities to the tourists would be set up at a cost of Rs. 20 lakh in Kullu district.
Chief Minister said that a big project of setting up a Mill for grinding and packing of maize flour with a cost of Rs. 1.34 crore would be set up at Sauli Khud in Mandi. A ginger based processing unit would beset up at Dadahu in Sirmour District with a cost of Rs. 27.31 lakh. A possibility to set up Mineral Water Processing and Packaging Plant at Nichar and Sangla with the costing of Rs. 75.63 lakh would be explored with tie-up with HPMC.
Chairman H.P. State Cooperative Bank (HPSCB) Harsh Mahajan apprised the Chief Minister that HPSCB had paid a capital of Rs. 847.43 lakhs and working capital is over Rs. 7062 crore at present. He said that many new initiatives were being taken to improve its position in banking sector.
Chairman, HIMFED Ajay Bahadur Singh apprised the Chief Minister that efforts were being done to improve the cumulative losses which were Rs. 17.63 lakh and MBA Institute Pune was requested to prepare the revival plan.
Chairman H.P. State Cooperative Agriculture & Rural Development Bank Devi Singh Jistu urged the Chief Minister to provide monetary support and one year guarantee to the Bank. He also urged that Bank had land assets over 3500 bigha but the same could not be transacted as the mutation is not done favour of the Bank.
Managing Director Jogindra Central Cooperative Bank Daya Ram Sharma told that it has share capital of Rs.288.69 lakh and its reserve and surplus were Rs. 3830 lakh. He said that the Bank had earned the profit of Rs. 960.52 lakh for the year 2012-2013.
Chief Secretary Sudripta Roy, Advisor to Chief Minister T.G. Negi, Additional Chief Secretaries P. Mitra and Ajay Mittal, Principal Secretary to Chief Minister V.C. Pharka, Principal Secretary Finance Dr. Shrikant Baldi, Registrar Cooperative Societies, R.D. Nazim, Managing Director, HPSCARDB L.K. Sharma, Managing Director HIMFED Rakesh Sharma, Amit Kashyap, Managing Director, State Cooperative Bank, Managing Director, Kangra Central Cooperative Bank Hans Raj Chauhan and other Senior Officers of the Cooperative Department and Banks were present in the meeting.