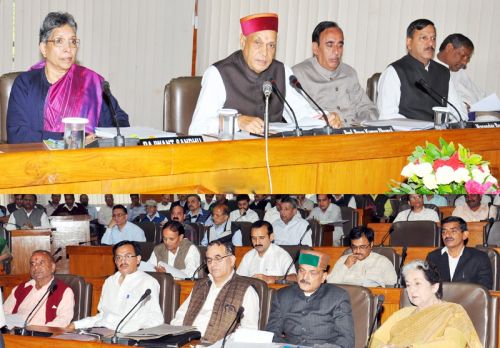 Chief Minister Prem Kumar Dhumal informed that State Government has demanded Rs. 27,556 crore for 12th Five Years Plan period from the Planning Commission of India which was almost double than the 11th Five Years approved Plan. He urged the MLAs to give their valuable suggestions so as to fix the priorities for it. He was speaking on the occasion of inaugural session of MLAs convened for mid term appraisal of current annual plan and fixing the priorities of 12th Five Years Plan here today.
Reiterating his Government's resolve for speedy and balanced development and ensuring socio economic justice to all sections of the society, Prof. Prem Kumar Dhumal said that target of achieving 9.5 percent growth rate had been planned for 12th Five Years Plan which was a target fixed at national level.
Chief Minister said that for MLAs priorities a target of Rs. 300 crore had been fixed for the year 2011-12 and upto end of August this year sanctions amounting to Rs. 163 crore had been received so far. Full amount would be got sanctioned by the end of this financial year. He asked Public Works, Irrigation and Public Health and Health Departments to apprise MLAs the difficulties in Detailed Project Reports if any and informed the MLAs about their priority schemes with factual position from time to time.
Dhumal said that with the cooperation of all and constructive suggestions received from all quarters the performance of the State had been the best in surveys conducted by various prestigious agencies in respect of various developmental indicators during last three years. He said that in implementation of 20 point programme Himachal Pradesh had stood first consecutively for the last two years.
Chief Minister urged the MLAs to give suggestions for strengthening and rationalization of educational health and other institutions opened during 11th Five Years Plan period besides giving suggestions for adopting economy measures and generating financial resources in the larger interest of development of the State.
Dhumal said that he had taken up the matter with the Central Government for providing special assistance keeping in view the difficult geographic conditions of the State and steps taken by it for environment conservation in the recent past. Chief Minister said that 13th Finance Commission had not appreciated the genuine demands of the State and had given annual 50 percent increase over the 12th Finance Commission in respect of allocation of resources of the State which was least in the country. Some States had got increase in allocation of resources upto 126 percent and to give 50 percent increase to Himachal Pradesh was a great injustice to it, he added.
Dhumal said that loan limit of the State had also been estimated less as against the loan limit of Rs. 2035 crore and the State limit had been estimated of Rs. 1647 crore which was injustice with it and would hamper the growth of the State. He said that he had taken up the matter with Prime Minister recently so that it did not suffer in development.
Chief Minister said that 32 blocks would be provided sports stadium in rural areas, Rs. 16 crore being spent over construction of two synthetic tracks at Hamirpur and Dharamsala besides four indoor stadiums in the State with proposal to construct two more indoor stadiums at Solan and Sirmaur districts in near future. He said that State Government had entered into an MoU with Future Group having a network of 150 retail outlets in metropolitan and semi urban areas who had demanded immediate supply of 1500 tonnes of apple, 5000 tonnes of garlic and 15000 tonnes of potato.
Dhumal said that road repair work would start soon which had been pending due to prolonged rainy season. He said that most of the DPRs were under preparation. He said that out of Rs. 1400 crore NABARD sanction received Rs. 885.22 crore, 64 percent was obtained during past three years. He said that schemes pending with NABARD were being pursued vigorously. He appealed to the MLAs and other public representatives further cooperation and using their good offices to get the private land transferred for road projects. He said that a Task Force of PWD and Forest Department was being constituted to get forest clearances expeditiously.
All the MLAs thanked the Chief Minister for undertaking mid term appraisal of the current plan and added that this would go a long way in implementing the priorities given by them in right perspective.
Chief Secretary Rajwant Sandhu welcomed the Chief Minister and said that this meeting was a follow up of the meeting held on 28th January, 2011 to fix the priorities for current financial year and added that mid term appraisal was being done after many years. She directed all the departments to ensure that the priorities given by MLAs are implemented.
Dr. Shrikant Baldi, Principal Secretary, Planning said that endeavours would be to ensure that priorities given by the MLAs are implemented fully by the end of this financial year.
Horticulture Minister Narender Bragta, Health Minister Dr. Rajeev Bindal, Chief Parliamentary Secretary Sukh Ram Chaudhary also participate in the meeting and gave their valuable suggestions.
In the forenoon session, MLAs from Shimla, Solan and Sirmaur participated in the discussions.
Nand Lal, MLA, Rampur welcomed the mid term appraisal initiatives and urged for according priority to DPR preparation and forest clearances to construct rural roads. He urged for early construction of Kashapat and Pandrah-Beesh roads.
Khushi Ram Balnahta, MLA, Rohru congratulated Chief Minister for holding mid term appraisal of MLAs priorities. He urged for making Dodra-Kwar road operational for maximum period of the year. He appreciated the setting up of heritage museum in US Club. He wanted restoration and development of Khadrala Rest House to promote eco tourism. Suresh Bhardwaj, MLA, Shimla lauded the initiatives of the State Government to invite suggestions of MLAs in formulation of 12th Five Years Plan priorities. He thanked for ISBT, sanctioning three multi storeyed parking. He urged for more parking slots in town and early construction of marketing yard, monorail, flyovers and tunnels.
Dr. Subhash Manglate, MLA, Chopal urged constitution of task force for obtaining forest clearances, provide more bus service, solve voltage problem and ensure proper operationalization of drinking water supply schemes. Sohan Lal, MLA, Kasumpti urged for early completion of road projects, irrigation and drinking water supply schemes, provide better connectivity at ISBT, sewerage schemes for Tutu, marketing yard. He underlined need for strict quality control in infrastructural projects.
Vidya Stokes, Leader of Opposition and MLA, Kumersain wanted giving due weightage to recommendations of MLAs in policy formulation, optimum utilization of public funds and efficient administration. She urged for according top priority to Behna drinking water supply scheme, staff in educational and health institutions. She appreciated the achievements in tourism sector and demanded monorail for Shimla town.
From Solan district MLA, Arki Gobind Sharma thanked Chief Minister for convening mid term appraisal meeting, creating more promotional avenues to employees, Primary Health Centre and Sub Tehsil at Darlaghat, sewerage for Arki-Kunihar. He urged for more educational institutions, sewerage scheme for Darlaghat. Dr. Rajiv Saijal, MLA, Kasauli thanked for providing Rs. 9 crore Geo Park and HPTDC Hotel Project at Kasauli, bringing historic town on the world tourism map. He apprised Chief Minister of various other developmental demands of his constituency.
From Sirmaur district, G.R. Musafir, MLA, Pachhad also welcomed the decision of the Government to incorporate suggestions of MLAs in finalization of 12th Five Years Plan. He laid stress upon strengthening the infrastructural facilities in rural areas, deal effectively with wild animal and monkey menace. Dr. Prem Singh, MLA, Renuka urged for quality educational infrastructural facilities in rural areas, close liquor vends near the educational institutions, ensure atleast one HRTC bus on each route and bus stands at Haripurdhar, Nohradhar, Sangrah and upcoming towns.
Harshwardhan Chauhan, MLA, Shillai wanted industrial development based upon local raw material, maintain link roads, creation of hard area cadre to ensure functional staff in such areas, 25 KV-3phased electric transformers in rural areas, planned development of school campus. Whereas, Kush Parmar, MLA, Nahan wanted early construction of Degree College building in Nahan, improvement of National Highway passing through Nahan.
Additional Chief Secretaries, Director General of Police, Principal Secretaries, Secretaries, Heads of Departments, Deputy Commissioners, senior officers were present in the meeting.