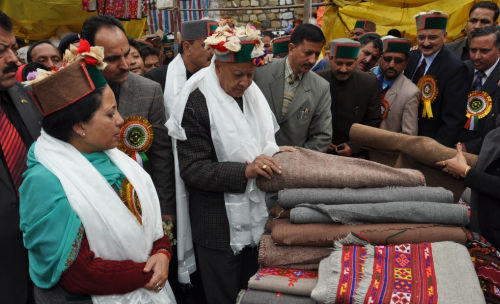 Rampur: A historic four day long international Lavi fair started today at Rampur in Shimla district. Chief Minister Virbhadra Singh inaugurated the Fair.
While addressing the occasion, Chief Minister extended greetings to the people of the area on Lavi Fai and reiterated that his government keen to preserve the rich culture and traditions of the State. He said that Govt has initiated effective steps to promote the folk culture through various festivals and fairs of the State.
He also inaugurated the exhibitions put up by various government departments, NGO's and public sector undertakings. He also released the Souvenir brought out by the Lavi Fair Organising Committee.
MP Pratibha Singh also congratulates the people of the area on Lavi Fair. She said this fair was famous for its historical and cultural background and it had also emerged as one of the big commercial fair of the North India. Singh said she was well aware of the problems of the people of the areas and she would raise these issues with the Government of India.
Chief Parliamentary Secretary Nand Lal, Deputy Commissioner and Chairman Lavi Fair Organising Committee, Dinesh Malhotra, Deepak Sood, Chairman, MC, Khoob Ram, MLA, Chandreshwar Prasad, Chairman, Zila Parishad, Vice President, HPSIDC Atul Sharma, Advisor to the Chief Minister T.G Negi and other senior officers were also present on the occasion.