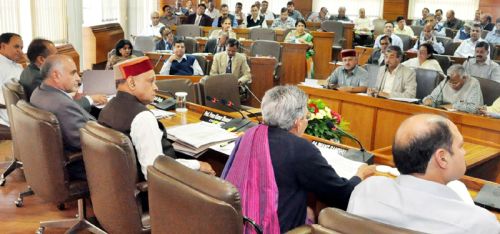 Chief Minister Prem Kumar Dhumal said that efforts would be made to forward forest clearance cases to Government of India within two months. He said that every assembly segment would be provided with ITI and five of them would be opened during current financial year. He was speaking in the afternoon session of Plan discussions with MLAs of Mandi, Chamba and Bilaspur districts today.
Chief Minister said that the priorities given by the MLAs for the Annual Plan 2011-12 were being given due consideration and mid term appraisal was a step in this direction. He said that this has been done after a gap of so many years by the present Government.
Dhumal said that roads constructed prior to 1980 were not covered under Forest Conservation Act and intimation had to be sent to Government of India in this respect. Additionally Government buildings, constructed for public service were also exempted under Forest Conservation Act only the State Forest Department had to be informed and permission obtained.
Transport and Urban Development Minister Mahender Singh said that Rs. 23 crore were being spent over construction of modern bus stand at Mandi which would fulfill a long pending demand of the district.
Public Works Minister Gulab Singh Thakur and Panchayati Raj and Rural Development Minister Jai Ram Thakur participating in the meeting gave valuable suggestions for accelerating the pace of development and said that priority of the Government was to fulfill the commitment made to the people by it besides ensuring speedy and balance development of the State.
Kaul Singh Thakur, MLA, Drang congratulated Chief Minister for holding mid term appraisal meeting and keeping them acquainted about the status of MLA priorities. He underlined need to generate vast employment and self employment avenues to educated unemployed youth in the State, provide skill upgradation facilities through in-house training, introduce relevant trades in ITIs. He advised for obtaining maximum external aided projects for the State. He also congratulated Chief Minister for winning first position in 20-Point Programme implementation for second year consecutively.
Roop Singh Thakur, MLA, Sundernagar pleaded for quality education in public and private sectors, strong marketing network in rural areas, promote off season vegetable cultivation. He urged for top priority to complete Tattapani-Slapper road, expedite DPR and forest clearances.
Dile Ram, MLA, Nachan thanked Chief Minister for liberal finances for road construction projects in his segment and increasing SC Sub Plan from 11 percent to 25 percent. He urged special plan to repair rain damages to houses, roads etc., use MNREGA for fencing of schools etc. develop Kamrunag and Shikari Devi from tourism point of view.
Col. Inder Singh, MLA, Gopalpur thanked Chief Minister for World Bank funded road projects and Jahu-Kalkhar highway project, LDWSS, channelization of Seer khad, speed sewerage project work in Sarkaghat town, deployment of medical staff in health institutions.
Hira Lal, MLA, Karsog thanked for various road projects in the segment and urged for completion of Karsog-Parlog road, Kao-Matehal road and bridges, ITI building, make 100 bedded hospital operational. He thanked for sanctioning PHC at Churag.
Anil Sharma, MLA, Mandi counted a development master plan for Mandi town. He thanked for shifting jail out of the town and urged for early completion of on going projects.
Prakash Chaudhary, MLA, Balh urged for correct spelling of the road projects and provide irrigation schemes for upper areas, Sub Tehsil at Ner Chowk, ITI, PHC at Leda, airport, sewerage scheme and parking at Ner Chowk and Rewalsar.
Randhir Sharma, MLA, Kot Kahloor expressed gratitude for sanctioning record DPRs for the segment, planning tunnel under Swarghat as an alternate road to decongest the over busy road, construct residential accommodation to medical staff, set up monkey sterilization centres in every district, separate irrigation wing for speedy execution of schemes.
Rajesh Dharmani, MLA, Ghumarwin lauded the mid term appraisal meeting. He suggested modes adoption to generate vast self employment avenues in rural areas, complete channelization of Seer khad, National Highway to pass through the area.
Renu Chadda, MLA, Banikhet urged for completion of allotted HEPs and thanked for dedicating Taleru water sports complex, providing helicopter services to high end devotees to Manimahesh and urged for one helipad in the segment. She raised various developmental demands of her segment.
Kuldeep Pathania, MLA, Bhattiyat, wanted effective implementation of the land to landless for house building, ensure scientific and planned widening of roads, ecologically safe implementation of HEPs as resources generation and consider partnership in such projects.
Chief Secretary Rajwant Sandhu, Additional Chief Secretaries, Director General of Police, Principal Secretaries, Secretaries, Heads of Departments, Deputy Commissioners, senior officers were present in the meeting.