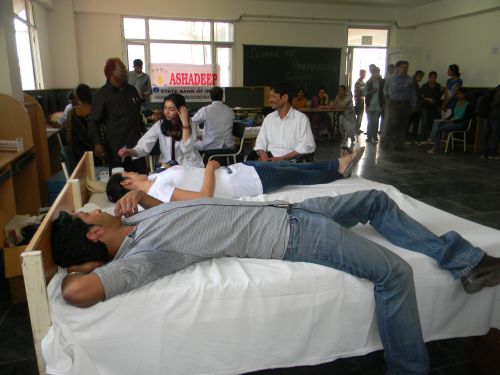 As many as 70 students of Shoolini University donated blood at the blood donation camp organized at the University Campus. The camp was organized by the Department of School of Pharmaceuticals Sciences in association with Shimla based NGO, Ashadeep.
Inaugurating the camp Shoolini University, Vice Chancellor, Prof. Dr. P K Khosla underlining the need for such a noble cause said, "There is no better service to the society than a blood donation, where it saves many a lives associated with it."
He lauded the role of the faculty members of the Department of School of Pharmaceuticals Sciences of Shoolini University for holding such a camp for the second time in this month.
Ashadeep, President, Sushil Tanwar said, "True service to God is to serve the suffering humanity and this can be done by means of blood donation. Advocating for the need of young people to join the cause he urged the students to inspire and encourage other to join the blood donation movement voluntarily.
This was the second blood donation camp organized by Department of School of Pharmaceuticals Science in the month of September. Encouraging such an endeavor, School of Pharmaceutical Sciences, Director, Dr. Mathew George has shown keen interest to hold more such camps for the service of humanity. He urged students to actively support such humanitarian causes.
The blood donation camp witnessed an overwhelming response from the students as there were many of them who donated blood for the first time. Besides the department of Pharmaceutical Sciences, students of department of MBA, BTech also donated blood during the camp. These included, Anita Sharma, Shikha Kalia, Arun Rehal, Manish Kumar, Shashank Kaul, Deepak Kumar and Mahavir Singh. Meanwhile, third timers donating blood included Amit Bhatt, Kulbhushan Negi, Nisha Sani. The camp was assisted by the team from Indira Gandhi Medical College, Shimla blood bank headed by Dr. Sandeep Malhotra.