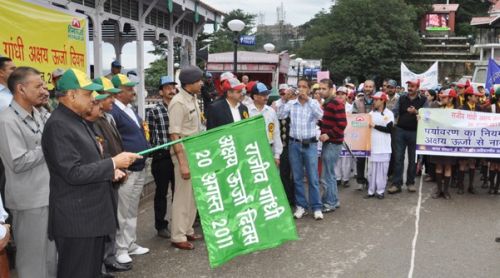 Chief Minister discloses that Shimla and Hamirpur will be developed as Solar Cities and government is preparing Master Plan for it. He said it while addressing State-Level function to observe Akshay Urja Divas (Non-Conventional Energy Day) to commemorate 68th birth anniversary of former Prime Minister of India, late Rajiv Gandhi, after he flagged off 'Akshya Urja Rally' of students from historic Ridge Maidan here today.
Chief Minister said that Shimla and Hamirpur towns had been picked for development as solar cities in the first phase by shifting to non-conventional energy while two Energy Parks were also being developed at Dr. Y.S.Parmar University of Horticulture and Forestry, Nauni, Solan and National Institute of Technology, Hamirpur, where the developmental programme was in progress. He said that first solar energy plant of 200 KV had been set up at Baru Saheb in district Sirmour while 216 police posts would soon be getting 2 KV solar power plants soon. He said that additionally a proposal to install 8,564 solar street lights had been moved to the Government of India for approval which would benefit 250 gram panchayats in the State in the Ist Phase. He said that the State had vast potential of solar, wind and biomass energy which could be exploited to supplement the hydel power generation in the State. He said that those renewable energy activities would benefit the State with availability of additional power.
Dhumal stressed upon the need to redefine the concept of developed countries. He said that earlier highest consumption of green house gasses and power had been the criteria to determine the status of a country which keeping in view the threat posed by global warming and change in climate had been reversed. He said that Indian style of living had been the best since centuries and western countries were also adopting the same concept to marginalize the impact of carbon emissions. He said that it had been a proven fact that whenever there was excessive exploitation of the natural resources the nature had reacted sharply causing immense damage. He said that there was need to harness the natural potential and not to exploit the same for personal gains. He said that maximum use of non-conventional energy would not only protect the natural resources but provide people healthy living. He said that people needed to learn living in harmony with the nature. He said that 'Akshya Urja Divas' like celebrations should not be ritual but a continued process through out the year. He said that such days reminded us of the significance of a particular celebration which needed to be incorporated into everyone's life.
Chief Minister reiterated the resolve of the State Government to accord high priority to non-conventional energy generation by making optimum use of the solar, wind and biomass available. He said that Himachal Pradesh had made its name in hydel power generation and in near future the State would also be known for non-conventional energy generation as well.
Chief Minister honoured the students who had taken part in various activities organized to mark the celebration. He also inaugurated the exhibition of solar energy implements on the occasion.