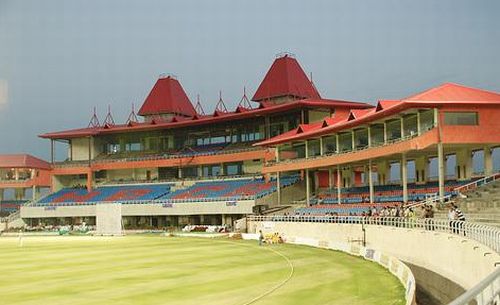 The HPCA is all set to put good show on May 15, 17 and 21 IPL matches and hoping to tickle BCCI and ICC for giving it more then IPL. Since 2010, the stadium, surrounded by the snow-clad Dhauladhar range and lush green pine forests, has become the second home venue of Kings XI Punjab. These matches are a gateway for the Himachal Pradesh Cricket Association to stake its claim for holding international matches. Stadium has seating capacity of around 20,000, with facility of separate practice areas, a club lounge, restaurant, bar and banquet hall.
HPCA president Anurag Tahkur and other officials are hopeful for the BCCI nod for the international matches and it's learned that a team of International Cricket Council (ICC) officials are visiting the stadium soon to inspect the facilities before giving the final nod.
The venue is the first in India to use winter rye grass scattered around the outfield, which prevents the grass from withering when temperatures fall below 10 degrees Celsius. This year, indoor practice facilities were added to the stadium.
However, the shortage of hotel rooms for the spectators is worrying factor for the HPCA. The town has just 56 registered hotels and guesthouses with a bed capacity of 1,100. Similarly, McLeodganj, eight kilometers from Dharamsala, has around 91 registered hotels with a capacity to accommodate 1,000 people. There are no five-star hotels and no major airport that can accommodate jetliners.
For the players, the HPCA has constructed an ultra-luxurious residential complex with 36 huts made of imported wood and similar number of concrete rooms. They are some three kilometers from the stadium.