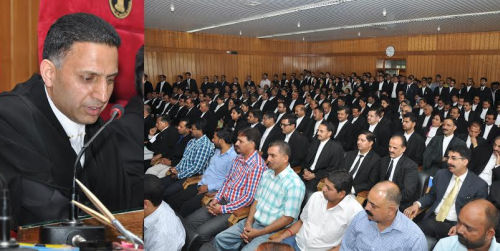 Newly appointed Chief justice was accorded grand welcome as 22nd Chief Justice of Himachal Pradesh High Court.
In a full court welcome address Chief Justice Justice Mansoor Ahmad Mir stressed upon importance of honest, sincere, and diligent discharge of duties for better and quick justice delivery system.
Speaking about the relationship between the Bar and the Bench, Chief justice said that the strength of Judiciary lied in public confidence, which in turn depended upon good relationship between both.
Justice Sanjay Karol welcomed Justice Mir and complimented him on being an efficient, honest and deeply religious person, committed to the cause of justice.
High Court Judges Justice Sanjay Karol, Justice Rajiv Sharma, Justice VK Sharma, Justice Dharam Chand Chaudhary, Justice Tarlok Chauhan, Justice PS Rana, Justice Sureshwar Thakur and judges of the Jammu and Kashmir High Court, Shravan Dogra, the Advocate General and Chairman of the Bar Council, Ashwani Pathak, president of Himachal Pradesh High Court Bar Association, Sandeep Sharma, Assistant Solicitor General of India, Registrars of the High Court, Chirag Bhanu Singh, Principal Secretary, Law along with a large number of dignitaries, Bar and staff members were present on the occasion.
Chief Justice Mansoor Ahmad Mir also inaugurated hi-tech digital display system, which will display the case status in the high court in every court and also generate a call to Bar members whenever any case is kept back in any court for hearing and any advocate in that particular case is unable to appear before the court.
Apart from this, this hi-tech digital display system will also enable advocates to access the case status will as well as litigating public through internet via website of the HP High Court.