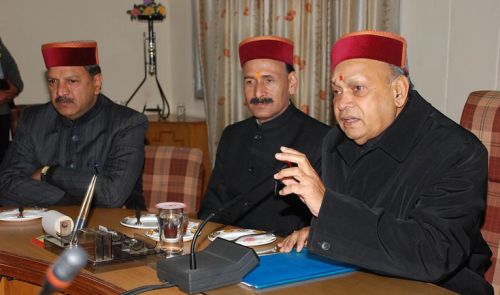 Himachal Pradesh Cabinet meeting was held at Dharamshala. In the meeting, the cabinet granted approval to recruit 165 Panchayat Sahayaks in the Department of Panchayati Raj on contract basis by following the roster system for smooth functioning of the gram panchayat offices, and to provide educated unemployed youth employment opportunities. It also granted approval for the creation of 12 posts of different categories to manage the 'State Climate Change Centre' at Shimla, under HP State Science, Technology and Environment Council.
It approved Amendment in Articles of Association of the Himachal Pradesh Power Corporation Limited and fixed the maximum number of Directors at nine and further authorized the Corporation to avail loan/borrow money from Asian Development Bank in excess of the paid up capital and free reserves of the Company, to the extent of Rs. 3,500 crore for execution of various Hydro Electric Projects allotted to the Corporation.
In order to implement the provisions of Energy Conservation Act, 2001 and to utilize State Energy Conservation Fund for the purposes of efficient use of energy and its conservation within State, the Government of Himachal Pradesh decided to frame the Himachal Pradesh State Energy Conservation Fund Rules, 2011. It approved the Draft Governor's Address to be delivered by H.E. the Governor, Himachal Pradesh, on the inaugural day of the Eleventh Session of the Himachal Pradesh Eleventh Vidhan Sabha.
The cabinet also approved construction of Additional Block at Circuit House, Dharamshala, limiting its estimated cost to Rs. 2.46 crore. The proposed block would also accommodate Ministers during the Winter Session of Assembly and save on extra expenditure being incurred on boarding and lodging in private hotels. Department of Excise and Taxation have been authorized to carry auction proceedings for collection of tolls at Toll Barriers under the H.P. Tolls Act, 1975 for the year 2011-12 beginning from April 1, 2011 to March 31, 2012.
Cabinet granted approval to leasing out of land at Bilaspur and Mashobra in district Shimla for setting up of Rural Self Employment Training Institutes (RSETI) by UCO Bank, on a token lease payment of Re.1/- per month for 33 years. It granted approval for filling up of one post of Assistant Professor in Oral and Maxillofacial Surgery Department of Government Dental College, Shimla.
In pursuance of the 74th Constitutional Amendment and Jawahar Lal Nehru National Urban Renewal Mission requirement of carrying mandatory reforms and resolutions adopted by the Municipal Corporation, Shimla, it has been decided to restore possession rights of the Shimla Town forest area with the Municipal Corporation for its preservation, conservation and maintenance. It decided to issue No Objection Certificate in favour of Jagriti Sabha, Deodhar, in district Mandi to admit 20 candidates for GNM course as per the eligibility conditions of the Nursing Council of India.
Cabinet approved quashing of old and framing of new Recruitment and Promotion Rules for the post of Senior Ski Instructor in Atal Behari Vajpayee Institute of Mountaineering and Allied Sports, Manali anlo gives nod to the Amendment in Himachal Pradesh Fiscal Responsibility and Budget Management (Amendment) Bill, 2011. It approved Himachal Pradesh Panchayati Raj (Extension to the Scheduled Areas) Rules, 2011.