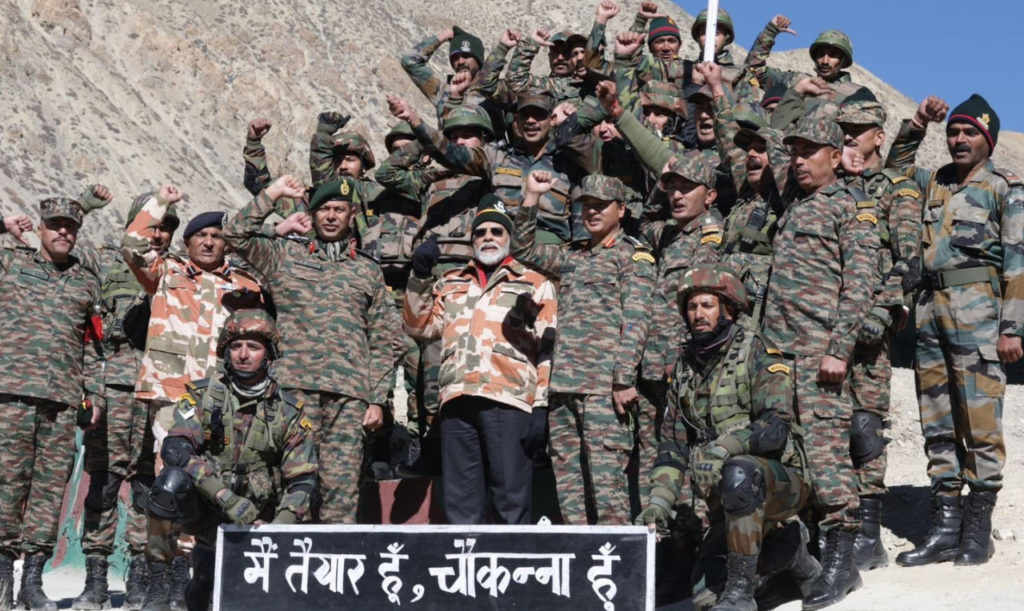 In a heartfelt celebration of the Festival of Lights, Prime Minister Narendra Modi chose a unique venue to mark Diwali this year, spending the auspicious occasion with soldiers in the rugged terrains of Himachal Pradesh's Lepcha. The Prime Minister, known for his annual tradition of celebrating Diwali with the armed forces, arrived in the morning to share moments of camaraderie with the brave security personnel stationed in the challenging region.
The significance of the event was captured in poignant photographs shared by Modi on social media, depicting him offering sweets to the soldiers. In a post, the Prime Minister expressed the profound emotions and pride he felt during the celebration, stating, "Spending Diwali with our brave security forces in Lepcha, Himachal Pradesh has been an experience filled with deep emotion and pride."
Acknowledging the sacrifices made by the soldiers who are often away from their families, Modi emphasized, "Away from their families, these guardians of our nation illuminate our lives with their dedication." He went on to laud the unwavering courage of the security forces, highlighting their commitment to safeguarding the nation even in the toughest terrains and amidst personal sacrifices.
"The courage of our security forces is unwavering. Stationed in the toughest terrains, away from their loved ones, their sacrifice and dedication keep us safe and secure," remarked the Prime Minister in appreciation of the soldiers' resilience and commitment. Modi extended the nation's gratitude to these heroes, describing them as the epitome of bravery and resilience. In another post, he affirmed, "India will always be grateful to these heroes who are the perfect embodiment of bravery and resilience."
Earlier in the day, Modi took a moment to extend Diwali greetings to the nation, wishing everyone joy, prosperity, and good health. "Wishing everyone a Happy Diwali! May this special festival bring joy, prosperity, and wonderful health to everyone's lives," he conveyed.
This Diwali celebration with the soldiers adds another chapter to Modi's tradition of honouring and appreciating the armed forces. Since assuming office in 2014, the Prime Minister has consistently chosen to spend Diwali with military personnel, recognizing and acknowledging their sacrifices in ensuring the safety and security of the nation.