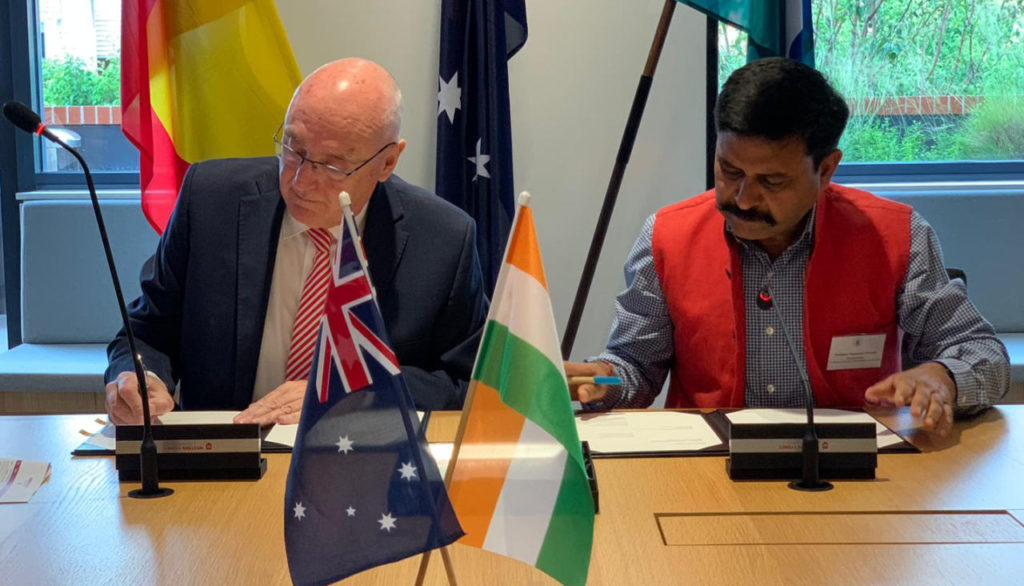 In a groundbreaking initiative, Dr. YS Parmar University of Horticulture and Forestry Nauni has joined forces with Western Sydney University (WSU) in Australia to spearhead advancements in agricultural education and research.
The partnership formalized through a Memorandum of Understanding (MoU) signed between Prof. Rajeshwar Singh Chandel, Vice-Chancellor of UHF, and Prof. Barney Glover, Vice-Chancellor of WSU, marks a significant stride towards fostering global collaboration in the field of agriculture.
The collaboration is set to offer dual-degree programs in BSc, MSc and doctoral studies, providing students with a unique opportunity to gain a comprehensive understanding of technology-based horticulture, forestry, biotechnology, and food technology. The aim is to not only enhance the employability and skills of the students but also to imbue them with a global perspective on agricultural practices.
Beyond academic programs, the partnership envisions a robust framework for collaborative research projects. Both universities will engage in joint conferences, seminars, symposia, and lectures, creating a platform for scholars to exchange ideas and expertise. The agreement also facilitates joint publications and other scholarly activities, emphasizing the commitment to knowledge dissemination and academic excellence.
Opportunities for academic staff and student mobility are integral components of this collaboration, encouraging a flow of ideas and experiences between the two institutions. Such exchanges are expected to enrich the educational experience for students and faculty alike.
The signing of the MoU coincided with a visit by a UHF delegation led by Prof. Chandel to the Hawkesbury campus of WSU at Richmond, New South Wales. The discussions during the visit revolved around advancing research, capacity building, and training in climate-smart and hi-tech agriculture. A workshop on climate-smart agriculture and carbon farming provided a platform for scientists from WSU to share insights on cutting-edge research programs.
The collaboration is not limited to academic pursuits; it extends to the exploration of innovative projects aimed at enhancing production and productivity in agriculture and allied sectors. The delegation from India, including representatives from NABARD, ICAR officials, Vice Chancellors of State Agricultural Universities, and government officials, engaged in fruitful discussions with their Australian counterparts on potential collaborations in areas such as climate-smart and hi-tech agriculture.
Field visits to Sustainable Development Goals and carbon credit accounting at the Richmond campus, along with tours of the WSU launch pad and finance and trading lab, added a practical dimension to the academic collaboration.
The partnership between Nauni and Western Sydney Universities signifies a new chapter in global agricultural education and research, bridging the geographical gap to cultivate solutions for the shared challenges faced by the agricultural sectors in India and Australia. As the seeds of collaboration are sown, the future promises a bountiful harvest of innovative and sustainable agricultural practices.