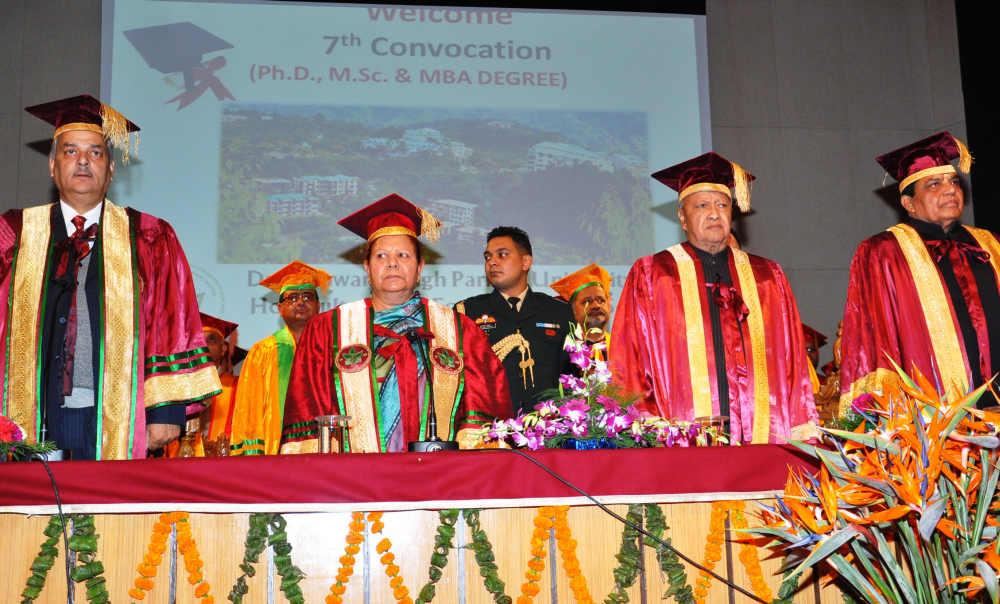 Governor Urmila Singh presided over the 7th convocation of Dr Y.S Parmar University of Horticulture and Forestry, Nauni in district Solan today. Chief Minister Virbhadra Singh was the chief guest on the occasion.
Governor, who is also the Chancellor of the University and Chief Minister awarded 1079 degrees and 28 gold medals to meritorious students.
The Governor congratulated all the meritorious students and stressed upon adopting latest technology to keep up pace with developments in research and education sectors and added that e-education should be promoted through video-conferencing etc. She said that regular interactions and discussions with technical experts was essential and added that efforts should be made to hasten the pace of progress in education, research and expansion of such activities.
Chief Minister Virbhadra Singh, in his address, stressed upon conservation of forests and said that "In times to come the dependency and human pressure on forests will increase and it is the moral duty of all of us to protect the forests from degradation and come forward for preserving them".
The Chief Minister announced rupees eight crore financial assistance to the University to overcome the financial crisis and also announced Rs 1.50 crore as special grant for beautification of the campus.
Earlier, the Vice Chancellor of the University, Dr Vijay Singh Thakur welcomed and honoured both the Governor and the Chief Minister and Dr. Col Dhani Ram Shandil, Social Justice and Empowerment Minister who was also present on the occasion. The VC read out the annual report of the University.
Senate, Members of the University Management Board, faculty members, senior officers of the district and students of the University were also present at the occasion.