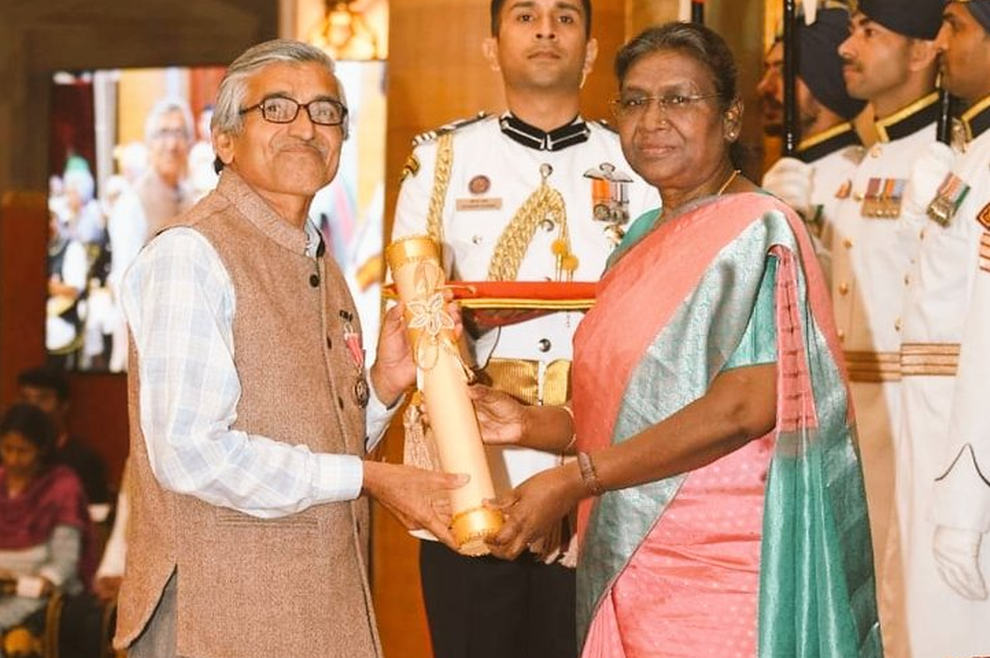 Nekram Sharma, a trailblazer in sustainable agriculture, received the prestigious Padma Shri from President Droupadi Murmu for his exceptional efforts in reviving traditional indigenous farming techniques and promoting organic farming.
Sharma has been practising intercropping and organic farming methods for three decades and has been growing indigenous seeds given to him by his elders.
Sharma's story of adopting indigenous farming methods to make farming land sustainable is an inspiration for farmers across India, who face decreasing crop yields and diminishing soil nutrition levels due to the excessive usage of chemical fertilizers. He has revived the traditional crop system of nine food grains, which were on the verge of extinction and has identified crops that need less water, increase soil fertility, repel insects, and grow faster in small patches of land.
Sharma's practices can be used throughout the country, particularly during times when climate change is wreaking havoc on agriculture, to help maintain sustainability in the sector. In addition to his work in agriculture, he supports local artisans and promotes their handloom products to a wider consumer base, working towards self-employment and self-sustainability.
Sharma's journey towards organic farming began in the mid-90s, as he observed the damaging effects of chemical fertilizers on soil fertility in the valley. He gradually made his land chemical and fertilizer-free by the mid-2000s and reintroduced millet cultivation, which is highly nutritious and helps recover land potency. By the year 2000, he had developed finger millet, foxtail millet, proso millet, kodo millet, buckwheat, sorghum, and pearl millet, which were on the verge of extinction.
Under his intercropping system, Sharma has been growing maize, moong, beans, rajma, urad dal, ram dana (amaranthus), finger millet, buckwheat, and foxtail millet for years, in addition to an orchard of mango, pomegranate, and litchi. He has inspired nearly 20,000 farmers across the state to practice organic farming and has a bank of 40 indigenous seeds that he hands out for free to farmers who are practicing natural farming techniques. He currently distributes indigenous seeds to over 10,000 farmers in six states for free and has been connected with agriculture university scientists and Krishi Vigyan Kendra, Mandi for the last twelve years.