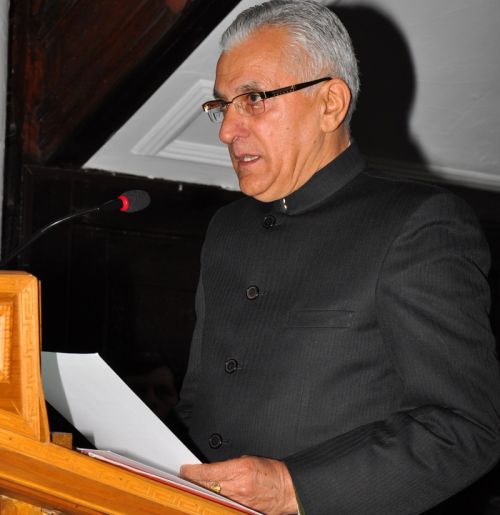 Justice Lokeshwar Singh Panta (Retd.) took oath of the office of Lokayukta, Himachal Pradesh, in the presence of Urmila Singh, Governor and Prem Kumar Dhumal, Chief Minister, in an impressive swearing in ceremony organized at Raj Bhawan.
Additional Chief Secretary Harinder Hira read the warrant of appointment issued by the Governor, Himachal Pradesh whereafter Justice Lokeshwar Singh Panta makes and subscribe the oath as per prescribed form in the presence of the Governor.
Tulsi Ram Sharma, Speaker, Himachal Pradesh Legislative Assembly, Ravinder Singh Ravi, IPH Minister, Narinder Bragta, Horticulture Minister, Jai Ram Thakur, Rural Development and Panchayati Raj Minister, Vidya Stokes, MLA and Leader of Opposition in HP Legislative Assembly, Members of State Legislative Assembly, Justice Pritam Pal , Lokayukta, Haryana, Justice R.B. Mishra, Acting Chief Justice, Himachal Pradesh High Court, Judges of Himachal Pradesh High Court, Bhim Sen, Chief Information Commissioner, Dr. A.D.N. Bajpai, Vice Chancellor, HP University, Dr. D.S.Manhas, Director General of Police, Additional Chief Secretaries, Principal Secretaries, retired Judges of the High Court, Chairmen and Vice Chairmen of various Boards and Corporations, representatives of various organizations and prominent people of the town were present on the occasion.