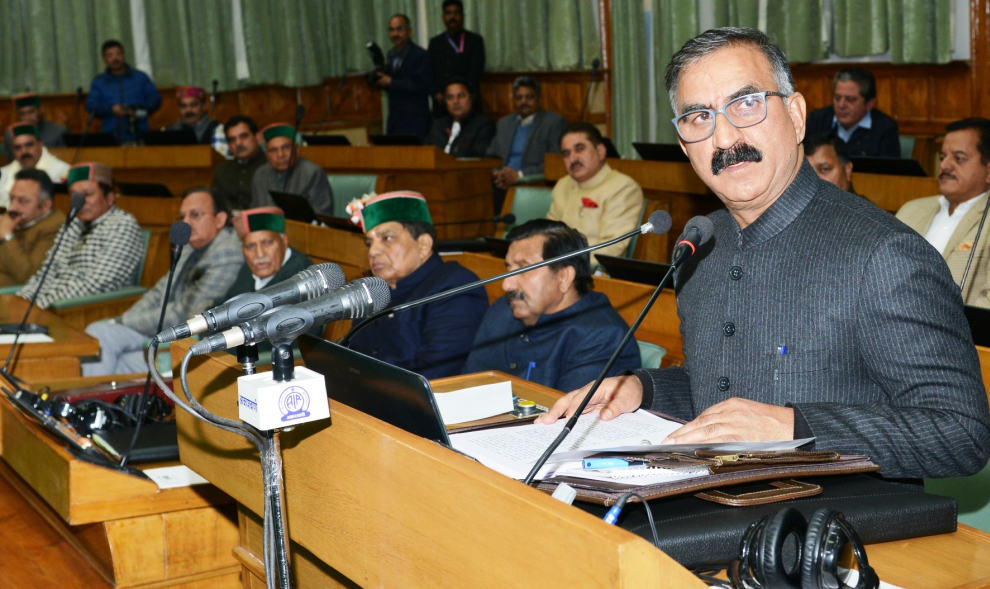 Shimla: Himachal Pradesh Chief minister Sukhvinder Singh on Friday presented ₹53,413 crore Budget for the financial year 2023-24 in the state assembly.
This was Sukhvinder Singh's first budget as Chief Minister.
The growth of the state's GDP has remained sluggish during 2022-23 and dropped to 6.4 per cent as compared to the 7.6 per cent growth recorded in 2021-22.
The growth rate of the state's economy of the State was estimated at 6.4 per cent during 2022-23. Per capita income in Himachal Pradesh has been estimated to be ₹2,22,227 in 2022-23 with a growth rate of 10.4 per cent over the previous year.
The State's GDP was estimated to be ₹1,95,404 crore for 2022-23.
The total revenue receipts are estimated to be ₹37,999 crores and the total revenue expenditure at ₹42,704 crores, the revenue deficit was estimated to be ₹4,704 crores.
The Fiscal deficit was estimated to be ₹9,900 crore which is 4.61 per cent of the Gross State Domestic Product.
As per the budget of 2023-24, out of every 100 Rupees spent, ₹26 will be spent on salary, ₹16 on a pension, ₹10 on interest payment, ₹10 on loan repayment, ₹9 on grants to autonomous institutions, while the balance ₹29 will be spent on other activities including capital works.