"Absence of CM, Chief Secretary and DPG raises serious doubts" Jai Ram Thakur
Shimla: Himachal Pradesh Chief Minister Jai Ram Thakur has levelled serious allegations on the Congress-led Punjab government for putting PM Modi life at risk during his visit to Punjab on January 5.
Jai Ram Thakur claimed that the lapses in the PM Modi security were a pre-planned and well-thought-of conspiracy.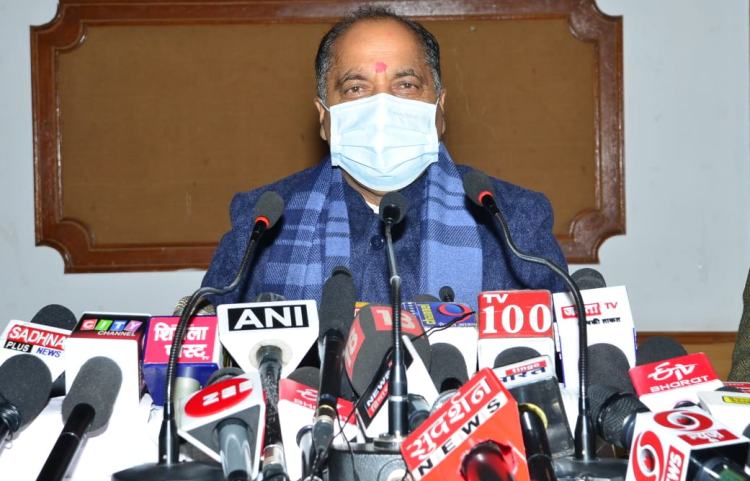 Jai Ram Thakur, while addressing media in Shimla, alleged that the blocking of roads by the agitators wasn't coincident, but a conspiracy. "It is a deep-rooted conspiracy in which the life of the country's Prime Minister was at stake," CM added.
Without naming anyone, Jai Ram Thakur claimed that the protest and blocking of the road wasn't spontaneous but a sponsored one as protesters were not farmers but "radicals in the garb of farmers," CM further added.
Seeking stringent action against conspirators, Chief Minister claimed that despite intelligence inputs and field police officers' reports, top Punjab Police officers had failed to provide secure passage to the PM Narender Modi to the rally event.
He blamed Punjab Police top officers for dereliction of duty and accused them of acting on the behest of nefarious design of Congress-led state government.
He also raised doubts over the conspicuous absence of Punjab Chief Minister Charanjeet Singh Channi, state Chief Secretary and state DGP for not present to welcome the Prime Minister, which they have to according to the protocol.
Meanwhile, Punjab CM and other Congress leaders have ruled out any conspiracy and blamed BJP for making the event political. However, the matter is now the subject of a Supreme Court-monitored inquiry.