Indore creates record by winning title of Cleanest City fourth time in a row
Shimla city has improved in Swachh Survekshan 2020 ranking. In a small city category, Shimla has ranked at 65 place. Shimla score 3695.03, while Ambikapur in Chhattisgarh scored 5428.31 and ranked cleanest city in SS2020 National Ranking (Cities 1 – 10 Lakh), and Mysore scored 5298.61 and New Delhi (NDMC) 5193.27 adjusted 2nd and 3rd respectively.
Satisfied with the ranking, Urban Development Minister Suresh Bhardwaj said that the Shimla city has achieved better ranking than Swachhta Sarvekshan- 2019 award. Suresh Bhardwaj said
"out of 382 cities Shimla City has got 65th rank, which was 128th in previous year"
Bhardwaj said that 48 other cities of Himachal Pradesh have also succeeded in achieving good rank in the ranking of urban local bodies with population upto 25 thousand.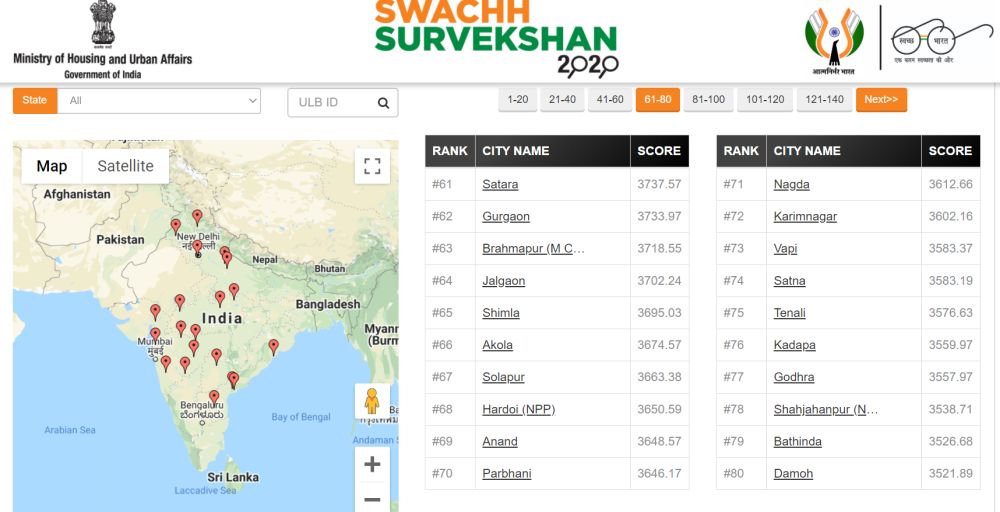 Indore has once again ranked cleanest city in Swachh Survekshan award 2020. City has adjusted cleanest city of India for the fourth time in row.
Highlights of Swachh Survekshan 2020
Cities of Indore, Ambikapur, Navi Mumbai, Surat, Rajkot And Mysuru Rated As 5-Star Cities, 86 Cities As 3-Star And 64 Cities As 1-Star
Chhattisgarh Declared Cleanest State In >100 ULB Category
Jharkhand Declared Cleanest State In <100 ULB Category State
Swachh Survekshan 2020 Survey Report Released Along with Reports on Innovations and Best Practices and Report on Assessment of Ganga Towns
4,324 Urban Ulbs Declared Odf So Far, 1,319 Cities Certified ODF+ and 489 Cities Certified ODF++
More than 66 Lakhs Individual Household Toilets and Over 6 Lakhs Community/ Public Toilets Constructed
Over 59,900 Toilets Across 2900+ Cities Made Live on Google Maps
Swachh Survekshan2021 To Focus on Wastewater Treatment And Reuse Along With Faecal Sludge, Legacy Waste Management And Remediation Of Landfills
New Performance Category—"Prerak Dauur Samman" Introduced in SS 2021 With Five Additional Sub- Categories -Divya (Platinum), Anupam (Gold), Ujjwal (Silver), Udit (Bronze), Aarohi (Aspiring)  
1.87 crore citizen feedback received
1.7 crore citizens registered on Swachhata App
Over 11 crore impressions on social media
Over 5.5 lakh sanitary workers linked to social welfare schemes and over 84,000 informal waste pickers integrated into the mainstream
Over 4 lakh contractual employees employed by Urban Local Bodies
Over 21,000 Garbage Vulnerable Points identified and transformed