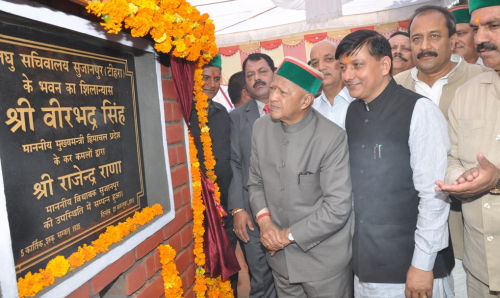 Chief Minister Virbhadra Singh laid foundation stones and inaugurated developmental projects worth over Rs. 22 crore in Sujanpur during his first day of two day visit to Hamirpur district. These include, foundation stone of Thakur Jagdev Chand Memorial Govt. Degree College Sujanpur to be constructed at a cost of Rs. 4.70 crore, inauguration of Sanik Rest House constructed at a cost of Rs. 91.27 lakh, foundation stone of Rs. 3.60 crore four storey ITI building at Sujanpur, inauguration of new block of Senior Secondary School Building constructed at a cost of Rs. 4.70 crore and foundation stone of five storey Mini Secretariat building to be constructed at Sujanpur by spending an amount of Rs.12 crore.
While addressing the public rally at Sujanpur during the function organized by Sarav Kalyankari Sabha, Virbhadra Singh said that balanced and all-round development of the State was his sole objective and he was committed to make Himachal Pradesh one of the most developed State of the country during the next five years. He said that he was persuaded into joining politics by Pandit Jawhar Lal Nehru and Lal Bhadhur Shastri, who at that time were motivating the youth to join politics during the year 1962. He said that he had been fortunate enough to have been worked with all the Prime Ministers of the country.
He said that he had always strived hard for the welfare and development of the State. He said that it was unfortunate that the BJP was trying to divide the people of the State in the name of regionalism. He said that he was a nationalist by heart and does not believe in politics of divide and rule. He said that it was during his previous tenure that Rs. 75 crore Bamsan-Lagwalti Drinking Water Supply Scheme was inaugurated for Hamirpur District.
Chief Minister said that it was unfortunate that prime land worth crores of rupees was grabbed by HPCA by flouting all rules and regulations. He said that in place of hostel for the players, HPCA constructed a luxury hotel at Dharamshala. He said that a fake company was registered in the name of HPCA at Kanpur, which was thereafter made a society. He said that similarly, the HPCA was provided prime land at Lalpani Shimla, Nadaun and Bilaspur on lease amount of Rs. one only. He said that the Government has therefore decided to get back the land from HPCA so that its appropriate and proper use could be ensured.
Chief Minister said that former Chief Minister Shanta Kumar had maintained a certain level of decency but it was unfortunate that former Chief Minister, Prem Kumar Dhumal has crossed all the limits of decency. He said that during both the tenures of Dhumal false cases were registered against him and in all these cases he acquitted by Hon'ble Court.
Later, Chief Minster inaugurated Rs. 664.54 lakh Lift Water Supply Scheme to cover partially covered habitats under Chowki, Chhabot, Amroh,Tikker and Chalokhar from River Beas in Hamirpur district. This would provide drinking water facility to 76 habitats of Hamirpur district and benefit over 17,000 people of the area.
Irrigation and Public Health Minister, Vidya Stokes said that Sarav Kalyankari Sabha was doing a commendable job in mitigating the sufferings of humanity. She said that the present Government was committed for welfare of the weaker sections of the society.
Industries Minister, Mukesh Agnihotri said that Virbhadra Singh has serve the State as Chief Minister for record six times and has played a major role in development of the State as Chief Minister, Union Minister, Pradesh PCC Chief and leader of opposition. He said that BJP Government during its previous tenure was also always busy in framing false cases against Chief Minister, Virbhadra Singh and when the present Government was trying to conduct free and fair investigation into the misdeed of the BJP, the BJP leaders were creating unnecessary hue and cry.
He said that the State has witnessed unprecedented development during the last ten months tenure of the present Government. He said that the Government has enhanced financial assistance for construction of houses for homeless from Rs. 48,500 to Rs. 75,000 and free bus travel facility was also being provided to the school students in HRTC buses.
Chief Parliamentary Secretary, Inderdutt Lakhanpal said that Himachal Pradesh has witnessed unparallel development in all spheres during the tenure of Virbhadra Singh.
MLA Sujanpur Tihra and Chairman, Sarav Kalyankari Sabha, Rajinder Rana, while welcoming the Chief Minister said that the pace of development has gained momentum during his tenure. He said that DPR worth Rs. 15.30 crore has been proposed for the Union Urban Development Ministry for development of Sujanpur Tihra. He said that Rs. 12.52 crore project has been sanctioned for channelization of various rivulets in Sujanpur area. He said that NCA Sujanpur Tihra was upgraded to Nagar Parishad for better management of the town. He thanked the Chief Minister for sympathetically considering various developmental demands of the area.
Rajinder Rana requested the Chief Minister to upgrade Govt. Middle School Chouki to High School, Govt. High School Rangar to Govt. Senior School and Govt. Middle School Banal to High School. He also requested to Chief Minister to provide additional accommodation in PWD Rest House Patlandar and open a branch of Kangra Central Cooperative Bank at Gram Panchayat Karot. He also requested the Chief Minister to construct link roads from Barri to Gram Panchayat Karot and from village Samouna to Gram Panchayat Jol. He also urged the Chief Minister to construct Bhaleth Bridge on Sujanpur-Hamirpur road and bridge between Niharpur and Rupa village besides, construction of Rope Bridge from Toli to Bhalunder across Beas River.
Chief Minister honoured Kanwar Hari Singh for his outstanding social services, Dr. Param Vir Singh Ahuja for Research and Saroj Vashisht for social services, Basanti Devi for her contribution in Music, Prof. Padam Singh Guleria and Suresh Ram for Sports, Mountaineer Ajay Sohal with 'Shane Himachal' award. Chief Minister awarded Col. J.K. Sharma for his best service of the Nation, Amar Singh for his contribution in the field of Agriculture, Hardev Jamwal in the field of Education, Dr. Kavish Khanna in the field of Health, Dr. Devdutt Sharma in social services, Rita Kumari in Sports, Kiran Devi for her contribution in the field Education and Senior Citizen Council with 'Hamir Gaurav' award.
Congress Leader Anita Dhiman presented Rs. one lakh towards Chief Minister's Relief Fund on behalf of Dhiman Kalayan Sabha. Chief Parliamentary Secretary, Jagjivan Pal, Chairman, 4th H.P. State Planning Commission, Kuldeep Kumar, MLAs, Sanjay Rattan, Yadvinder Goma, Ajay Mahajan, Pawan Kajal and Manohar Dhiman, Chairman, KCCB Jagdish Sipahia, Chairman Ex –serviceman Corporation, Maj. Gen. (Retd.) Bikram Singh, Vice Chairman KCCB Kuldeep Pathania, Director KCCB Anil Verma, Advisor to Chief Minister T.G. Negi, IG P.L. Thakur, Deputy Commissioner Hamirpur Ashish Singhmar, Superintendent of Police Veena Bharti and other senior officers were present on the occasion.