Palampur: Prof. Ashok Kumar Sarial, Vice Chancellor, CSK Himachal Pradesh Agriculture University, has underlined the importance and need of artificial intelligence in agriculture.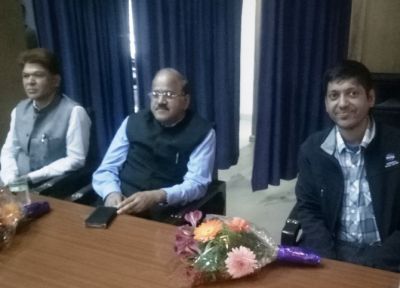 During a sensitization lecture on artificial intelligence and Robotics for the faculty and students of the University, the Vice-Chancellor said that AI has started bringing positive changes in our daily lives, including the way our food is produced. He said that technologies like machine learning, image recognition, and predictive modelling were being applied in the farm industry to boost productivity and efficiency.
Prof Sarial said that newly advanced approaches assisted by artificial intelligence could be important steps in the effort to produce more food for ever growing population by helping farmers reduce chemical inputs, detect diseases sooner, buffer against labour shortages and respond to climate change.
He told that artificial intelligence uses machine learning to forecast weather, analyze crops, and help farmers increase yields and profits. It is particularly useful for localized information and recommendations to the farmers who use its services. Some of the companies have developed mobile apps to use image recognition to detect plant diseases, pests, and soil deficiencies affecting plant health. "See and Spray" robots have been developed which use computer vision, robotics, and machine learning to precisely manage weeds. This technology could be of much use in irrigation also.
The Vice-Chancellor asked the faculty and students to read and learn about all such new age technologies for becoming better researchers as the University was in the process of developing 'Institutional Development Plan' proposal where the students and scientists will be encouraged to use AI and Robotics in their learning and research activities.
Earlier, Harshavardhana Kikkeri delivered an expert lecture on 'Virtual reality, artificial intelligence, robotics and machine learning- new dimension for sustainable agriculture' and answered to various questions of students and scientists. Kikkeri has over 44 patents in various fields from face recognition to virtual training and building autonomous robots and has worked in top institution like National Aeronautics and Space Administration, USA and has returned to the country to help the local industry and institutions in AI and Robotics.