Wheelchair can be booked through online and SMS
136 polling stations for women polling personnel, Five polling stations for orphanages
Shimla: Ensuring facility for Persons with Disabilities, the election commission has decided to provide utmost priority at polling stations and they will have access to enter without waiting in the queue. Chief Electoral Officer, Devesh Kumar said today that polling personnel have been briefed about the provisions of Election Commission of India (ECI) for permitting a companion to accompany a blind/infirm elector.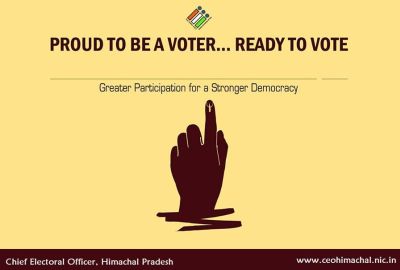 Devesh Kumar said that poll personnel are trained and sensitized regarding special needs of persons with various disabilities. Persons with Disabilities can also contact the booth level officer regarding the same, if he needs assistance. Kumar said
"People with disabilities were to be assured minimum facilities that would be made available at polling booths. Signages, Help Desk, polling booth at ground floor, obstacle free wide leveled pathway from entrance to voting compartment, ramp as per Government of India (GOI) standards, accessible toilets, drinking water, separate entry and exit, lighting, accessible furniture, braille ballot guide, adjustable braille embossed electronic voting machines (for visually impaired), wheel chairs, booth volunteers and display of accessible posters on information pertaining to exercising their franchise are few facilities to be made available"
Online and SMS booking of wheel chairs can also be made prior to poll day so that this facility is assured to Persons with Disabilities and reduced mobility at polling booths, he said. Persons with Disabilities Mobile app which is specially meant for Persons with Disabilities to request for voter facilitation could be downloaded from Android Google Play store for further information.
Apart from this, to facilitate the women electors as many as 136 polling stations have also been identified in the State solely for women polling personnel.
The election commission is also setting up five polling stations for orphanages. These would be set up in Ki in Lahaul-Spiti, and at Dari in Kangra, Bhangrotu-1 in Mandi, Basantpur in Shimla and at Dharampur in Solan, he said.