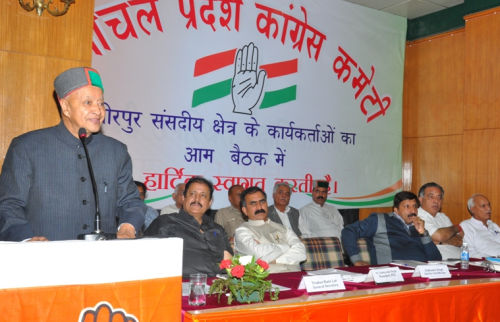 To chalk out the roadmap to ensure victory in Hamirpur Lok Sabha Constituency, Himachal Pradesh Congress committee holds a party workers meeting at Rajiv Bhawan Congress state office, here today.
Chief Minister Virbhadra Singh, HPCC president Sukhvinder Singh Sukhu, Food & Civil Supplies and Transport Minister G.S. Bali, Industries and Information & Public Relations Minister Mukesh Agnihotri, Chairman, State Planning and 20 Point Programme Ram Lal Thakur, former Minister and Incharge Hamirpur Lok Sabha Constituency Chander Kumar, Chief Parliamentary Secretary Inder Dutt Lakhanpal, MLAs Kuldeep Kumar, Ajay Mahajan and Bamber Thakur, former MLAs Nikhil Rajour, Manjeet Singh Dogra, President, District Congress Committee (DCC) Una, Virender Dharmani, DCC President, Bilaspur Santosh Dhiman, DCC President, Hamirpur, Naresh Thakur, Congress leader from Dharampur Chander Shekhar, all 17 block Congress Committee Presidents, Deputy Chairman State Planning Board G.R. Musafir, Vice Chairman State Water Board, Harbhajan Singh Bhajji, President State INTUC Bawa Hardeep Singh, President, State Youth Congress, Monika Bharati and other party leaders of parliamentary were present on the occasion.
While addressing the party office bearer, Virbhadra Singh said that Hamirpur Lok Sabha seat is not a tough seat as in the past Congress candidate Major General Vikram Singh had even defeated Prem Kumar Dhumal of BJP. He said that Congress Party was 126 years old Party which has rich traditions and regulations. He asked party workers to work hard to ensure party candidate's victory in the forthcoming parliamentary election. He asked them to take UPA and state government policies and achievements to the common people. He asked party workers and legislatures to form direct link with the people in the villages and them to get their rights from the administration.
Chief Minister Virbhadra Singh said that Congress has initiated many progressive policies and program for common people of the nation and National Food Security Bill is one of a revolutionary step in ensuring food security to all especially deprived persons in the country.
Virbhadra Singh said that UPA Government under the leadership of UPA Chairperson Sonia Gandhi, Prime Minister Dr. Manmohan Singh and Vice President, Congress Rahul Gandhi have taken many initiatives for the welfare of the people of the country which includes RTI, RTE, MNREGA and now greater is National Food Security Bill.
Chief Minister said that Himachal Pradesh had already taken a lead in this direction by providing subsidized pulses, flour, wheat, oil and iodized salt to each ration card holder during his last tenure. He said that previous BJP Government had continued this scheme though with some dilution and left Rs. 122 crore pending liability on this account.
Virbhadra Singh said that previous Government had taken many irrational decisions to woo the voters before assembly elections. He said that many colleges were opened during last six months without any proper infrastructure and budget. He said that if the previous Government was serious about opening these colleges they should have opened these earlier with adequate infrastructure and funding. He said that the Congress Government had made the budget provision of Rs. five crore for each new college opened during his previous tenure.
Chief Minister said that previous Government had misused the office machinery and allotted lands in large scale to Cricket Association Company and tapped telephones illegally. He said that frivolous cases like Sagar Katha and CD was framed against him by Dhumal led Government which he fought in the Court of Law and came out clean. He said that he and Congress Government do not act in bias and revenge but all the misdeeds would be inquired by the concerned agencies. He said that Congress Party had prepared a charge sheet of BJP Government and now inquiries pertaining to HPCA land deal, Bemloie Builders and others including illegal phone tapping was being carried out. He said that action would be taken against all the defaulters.
Chief Minister said that Government had taken decision to regularise the services of PAT, PARA and PTA teachers which would benefit about 12000 teachers. He said that his Government had regularised the Vidya Upasak teachers appointed by BJP Government but the previous Government let loose horses on PTA teachers for raising their demands.
President, Himachal Congress Sukhvinder Singh said that State Government had taken many welfare oriented decisions during last seven months and the people of Mandi Constituency had reposed faith in them by giving massive mandate in favour of Congress candidate Pratibha Singh. He urged the leaders and party workers to work wholehearted and sincerely to ensure victory of Congress candidates in all Lok Sabha constituencies of the State.
Food & Civil Supplies and Transport Minister G.S. Bali detailed about the National Food Security Bill and said that it would provide eatables to 80 crore people in the country. He said that as the development and economic indicators of the people of the State were quite high so only 36 lakh people of the State could be covered under this Food Security Bill. He said that this scheme would be launched on 20th August in the State. He said that he had taken up the matter with concerned Ministry to include certain sections like Single Women, serious patients and handicapped etc. and provide assistance to the State to carry on providing subsidized ration to APL with BPL families.
Industries and Information & Public Relations Minister Mukesh Agnihotri said that the present Government had taken many important decisions during past seven months. He said that free travel facilities in HRTC buses to school students, regularisation of various categories of teachers, subsidized ration and filling of thousands of vacant posts in various departments were some of them. He said that rupees one thousand crore Swan Channelization Project which is the biggest in the country was approved for the Una district by the efforts of the Chief Minister Shri Virbhadra Singh. He said that Rs. 122 crore IIIT would be set up at Una which would be 12th in the country. He said that Indian Oil Depot would be opened in Una which would provide work for about 500 trucks. He said that survey was being done by the Army authorities to open a CSD Canteen at Una. Other leaders also spoke on the occasion.