Chief Minister launches four new health schemes, announces hike for contract Medical Officers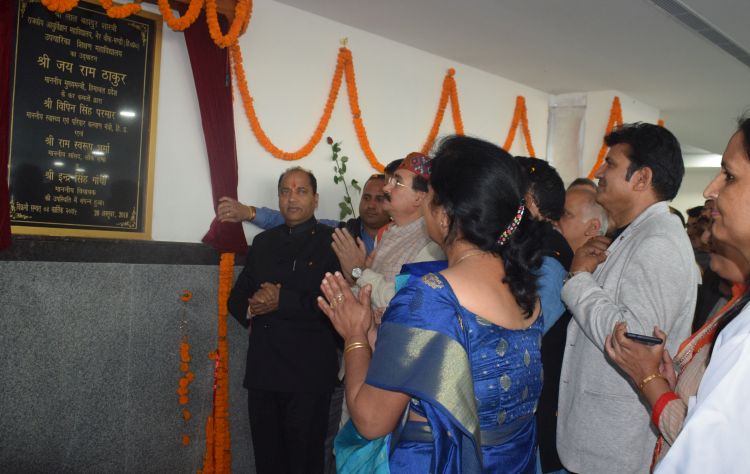 Ner Chowk/Mandi: Chief Minister Jai Ram Thakur today inaugurated Out Patient department (OPD) and an Indoor Patient department (IPD), Trauma Centre of Shri Lal Bahadur Shastri government medical college, Ner Chowk, and Nursing College at Ner Chowk in Mandi district. Initially the IPD will have 250 beds, three operation theatres and a trauma centre.
During a function organised at the medical college premises, the Chief Minister launched four new health schemes for the state including Mukhaya Mantri Chikitsa Raahat Kosh, Mukhya Mantri Rajya Swasthya Dekhbhal Yojana, Himachal Pradesh Health Protection Scheme and Telemedicine scheme for Pangi in Chamba district.
Jai Ram Thakur announced to open Atal Medical and Research University in Ner Chowk medical college and enhancing the monthly pay of medical officers appointed on contract basis by Rs. 10,000 and that of specialist medical officers on contract basis by Rs. 15,000 per month.
The Chief Minister said the people of the area would get specialised medical and emergency services round the clock. He said that financial assistance would be provided to the patients from Mukhaya Mantri Chikitsa Rahat Kosh who were not covered under social security pension scheme. He said the people would also be facilitated by enhancing the assistance under Mukhaya Mantri Awasthya Dekhbhal Yojana through 175 registered government and private health institutes by enhancing the financial assistance from existing provision of Rs. 30000 to Rs. five lakh. Under Himachal Pradesh Universal Health Protection Scheme the facility for free treatment upto Rs. five lakh would be made available.