Solan: To sensitise the younger generation about ill effects of drug abuse, the state government is contemplating to introduce syllabus regarding drug abuse in the school curriculum.
The state chief minister Jai Ram Thakur, in the Anti-Drug Rally at Thodo Ground at Solan today, said that all the youth must be motivated to say 'no to drugs and yes to life' only then the state can be truly being called as the Dev Bhoomi. He said that it was an historic day today as the nation was celebrating Police Martyrs Day. He said that in addition, it was on this day that 75 years ago Neta Ji Subhash Chandra Bose formed Azad Hind Army to free the Nation from foreign clutches.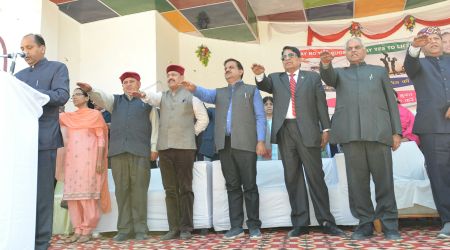 The Chief Minister said that drug abuse, particularly amongst the youth, was a matter of concern and Himachal was also no exception. He said that in order to check drug peddling from the neighbouring States, the state government is taking strict action.
Jai Ram Thakur said that it was on his initiative that the meeting of the Chief Ministers of Northern States was held at Chandigarh recently to deliberate of this vital issue and frame a joint strategy to curb this menace. He said that it was decided in meeting that all the four states would launch a joint operation to eradicate this vice from the society. Efforts would also be made to start joint operation along the border areas to nab the drug paddlers. Simultaneously, state government was also contemplating to frame stringent laws to punish those involved in drug peddling.
The Chief Minister said that the role of parents and teachers was also vital in curbing the drug abuse. Parents should keep an eye on the behavioural changes of their child. He said that due to the social stigma involved with drug abuse at times the parents of drug addict child ignores the early symptoms of their child and when the situation is worse, usually it is too late. He said that use of synthetic drug was even more dangerous and alarming and it was the need of the hour to make the Anti-Drug Abuse a mass movement, only then the future of our country could be safe.
Jai Ram Thakur urged the students to say no to drugs and also motivate those involved in drug abuse to leave this vice otherwise life would leave him or her. The state government would make all out efforts to check out this social vice. He said that efforts would be made to make drug peddling a non bailable offence.
Hundreds of students from different educational institutions, youth and general people participated in the Anti-Drug Rally. The Chief Minister also administered oath to the students to say no to drugs and check drug abuse.