Chief Minister Jai Ram Thakur launched Rs. 800 crore "Improvement of Himachal Pradesh Forest Ecosystems Management and Livelihoods" Project for the State. This project would be implemented in six districts of the State viz. Kullu, Lahaul and Spiti, Mandi, Bilaspur, Shimla and Kinnaur.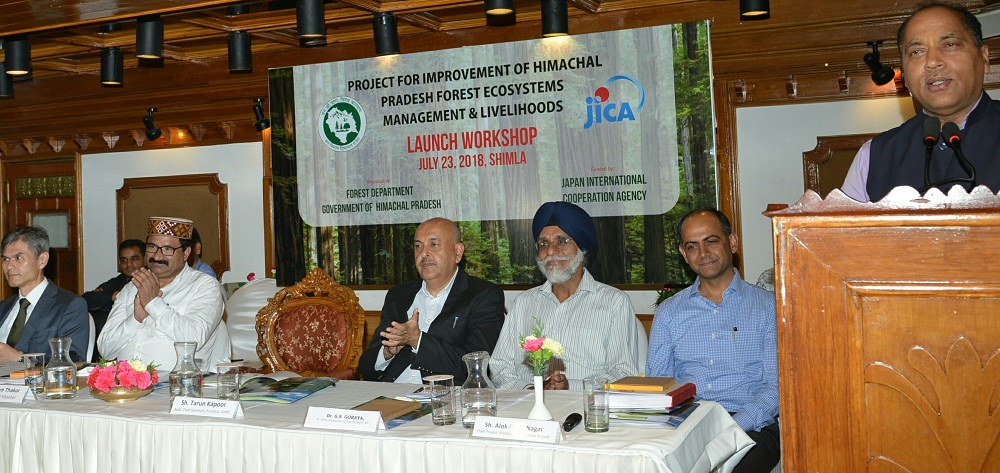 Jai Ram Thakur said that Project would involve management of forest ecological system management, protection of bio-diversity, livelihood improvement and strengthening of socio-economic development through environment conservation efforts. He said that under this Project works would be carried out through Rural Forest Development Society and Bio-diversity Management Committees constituted for Joint Forest Management. He said that about 460 Committees would be constituted under this Project. He said that this Project would not only ensure conservation of Bio-Diversity but also help in sustainable socio-economic development of the State. He said that the total tenure of this project would be 10 years. He said that both the tribal districts of the State has been covered under this Project, which would help in conserving the unique flora and fauna of the districts.
The Chief Minister said that special provision has been made for the communities depending on collection and extraction of herbs. The people involved in this avocation would be provided services of experts for collection of herbs and for its proper marketing, he added. He said that pasture land and grass lands would also be improved under this project. He said that efforts would be made to ensure active participation of the people in afforestation.
Jai Ram Thakur said that each one of us should plant one tree. He said that new concept for tree plantation must be adopted such as "Mitr Tree" or "Gotra Tree" should be introduced according to the topography and geographic conditions of the respective area, under which a person can adopt one tree as a Gotra Tree or a Friend Tree and vow to protect it throughout his life. He said that involvement of local populace must also be ensured for conservation of trees and motivate them for tree plantation.
Forest, Transport and Youth Services and Sports Minister Govind Singh Thakur said that this Project was the result of benevolence of the Prime Minister Narendra Modi and Prime Minister of Japan Shinzo Abe. He said that KFW Project was already being implemented with German assistance in Kangra and Chamba districts of the State. He said that over 17.54 lakh trees were planted during the special plantation campaign launched by the State with the active participation of general public.
Chief Representative of JICA Katsuo Matsumoto said that the Project has been implemented in the State with an objective to conserve bio-diversity of the State of Himachal Pradesh. He said that this project would not only help in environment improvement but also go a long way in reducing human-wildlife conflict. He also thanked the State Government for extending full cooperation in signing of this project.