Political parties have multiple sources of funding and thus accountability and transparency should be an important aspect of their functioning. It is essential to have comprehensive and transparent accounting methods and systems which should reveal the true financial position of the parties.
All political parties also promising for transparency in its' funding, but on reality – scenario is completely different.
The Election Commission of India (ECI), had already made for the parties to submit details of their audited reports to the Commission. Except small parties, major political outfits hardly bother to follow the mandatory dictate.
As per the report analyses, compiled by the Association for Democratic Reforms, the details provided by the National Parties in their audit report, submitted to the Election Commission of India (ECI) for the FY 2016-17, the BJP and the Indian National Congress, both biggest political parties of India, haven't submitted their annual audited reports to the ECI, more than three months after the due date for submission. The last date of submission of annual audited accounts for the parties was 30th October 2017.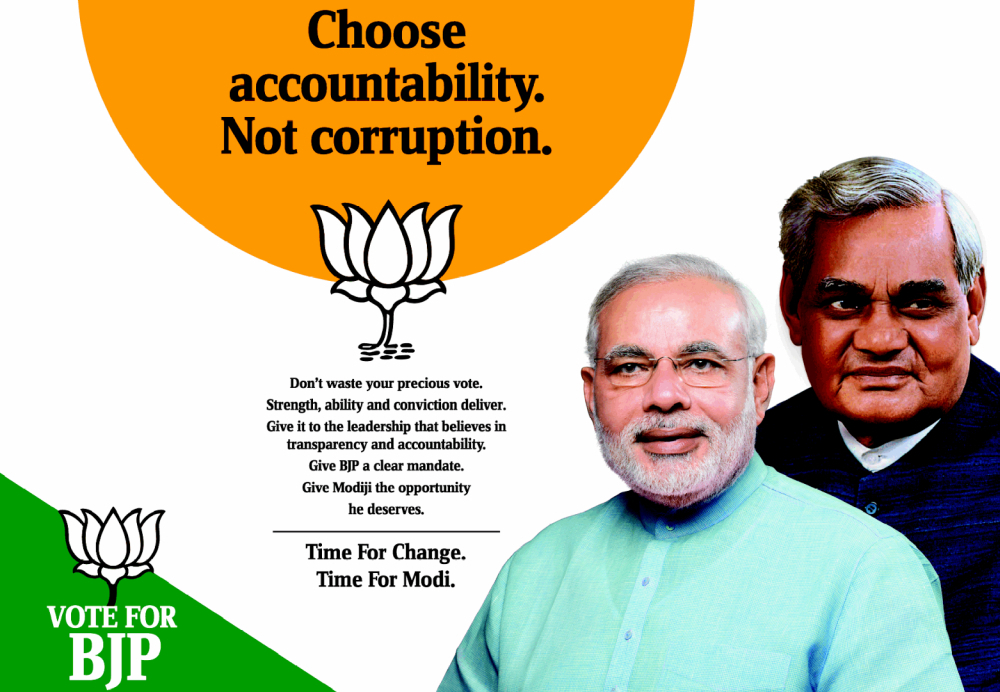 Out of seven National Parties, five Bahujan Samaj Party (BSP), Nationalist Congress Party (NCP), Communist Party of India (CPI), Communist Party of India (Marxist) (CPM) and All India Trinamool Congress (AITC) have submitted annual audit report. BSP, CPM and AITC submitted their audit reports on time, while CPI submitted its audit report 22 days after the due date for submission, and NCP submitted its audited report on 19th January, 2018, more than two months after the due date for submission.
Total Income of National Parties FY 2016-2017
5 out of 7 National Parties (BSP, NCP, CPM, CPI and AITC) have declared a total income of Rs. 299.54 cr, collected from all over India.
BSP has shown the highest income amongst the National Parties with a total income of Rs 173.58 cr during FY 2016-17. This forms 57.95% of the total income National Parties, together during FY 2016-17. The CPM has declared the second highest income of Rs 100.256 cr which forms 33.47% of the total income of the 5 National Parties. Whereas the CPI declared the least income of Rs 2.079 cr which forms a mere 0.69% of the total income of the 5 National Parties during the FY 2016-17.
On the spending part BSP had spent only Rs 51.83 cr of the total income. AITC had declared a total income of Rs 6.39 cr and spent an excess of Rs 17.87 cr (280%) over total income. NCP also incurred an excess expenditure of Rs 7.732 cr over its total income of Rs 17.235 cr.

Sources of income of National Parties
National Parties have declared donations/contributions as their main sources of income. BSP- Rs 75.26 cr, CPM- Rs 36.727 cr, NCP – Rs 6.62cr and AITC- Rs 2.17 cr.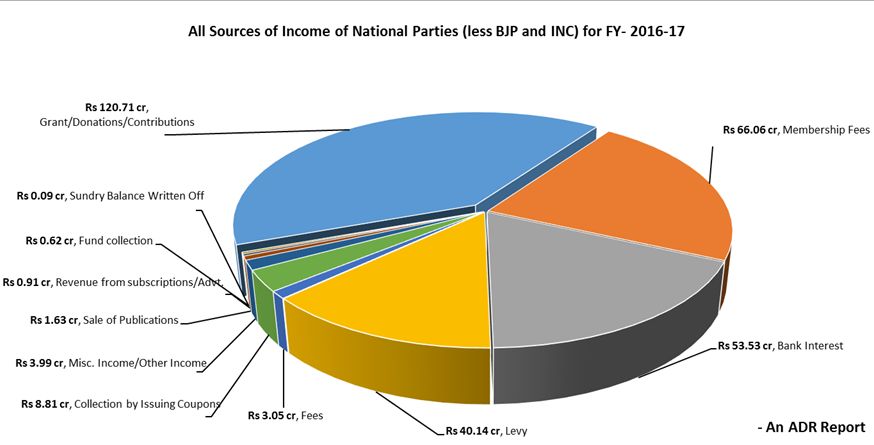 Need for a strict mechanism for reporting financial information
To ensure that there is financial transparency and accountability on the part of the political parties, there must be a strict mechanism with respect to reporting of financial information. The procedures and reporting framework must be standardized to ensure that a true picture of the financial position of the political parties is revealed to the general public. Institute of Chartered Accounts of India (ICAI) has put forward a set of recommendations on the request of the Election Commission of India (ECI). These recommendations relate to a standardized and comprehensive reporting framework of financial statements of political parties.
The Supreme Court of India gave a judgment on September 13, 2013 declaring that no part of a candidate's affidavit should be left blank. The apex court had also recommend the Election Commission to impose rules that no part of the Form 24A submitted by political parties providing details of donations above Rs 20,000 should be left blank. However even after that lawmakers ditches to make its money public.