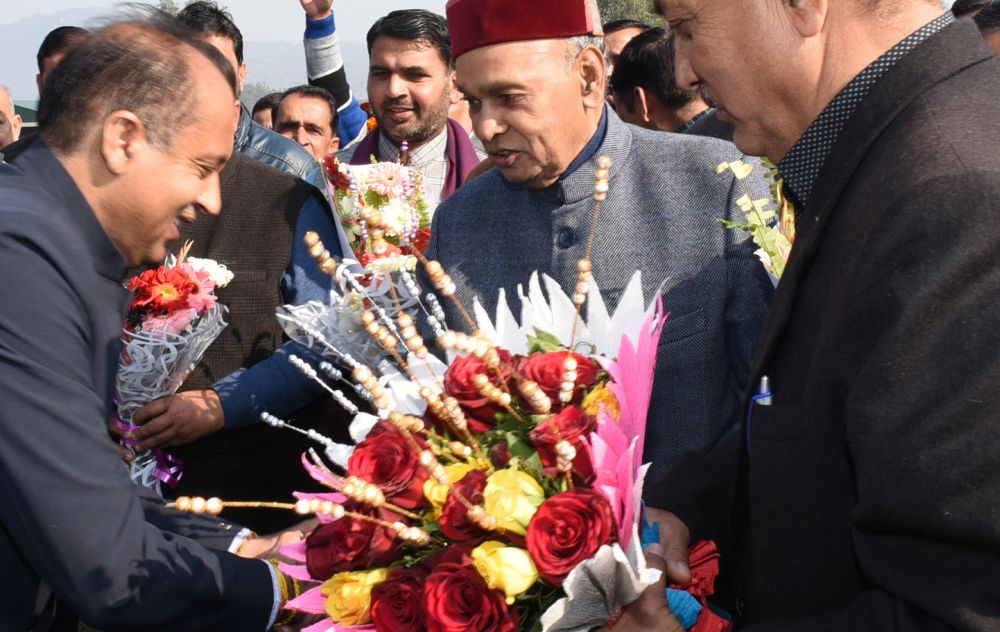 Hamirpur: Chief Minister Jairam Thakur accused the previous Virbhadra Singh led state government for indulging in the politics of vendetta. The Chief Minister while addressing a gathering at Kangoo, in Nadaun Assembly Constituency today, said
"The Congress government was being run by tired and retired and not the Chief Minister, who was kept in abeyance regarding the political developments. These retired officials believed in sycophancy for their survival"
Jairam Thakur stated that Congress leaders during the last five years were seen more in courts defending themselves rather than devoting time for development and welfare of the people throughout.
Blaming Congress leaders for issuing baseless statement in the media. Without naming anyone, Thakur stated that Congress leaders was expecting a lot from the Government during its mere 44 days regime and if same question will be asked form the congress, he won't be able to give satisfactory reply.
The Chief Minister said that now the Congress was blaming the present Government for giving extension to a few. 'I want to make it clear to them that our government gave extension to Patwaris, so that the people does not face any problems in making essential revenue papers and certificates, said the Chief Minister. He added that the extensions were temporary and as soon the new batch, completes its training, they would be deployed.
Previous Govt made several announcements in haste
Jairam Thakur said the Congress made several of announcements in haste and without making any budgetary provisions. They announced Tehsil in the areas, where Kanungo circles were required, they opened new SDM offices where tehsils were required and straight away announced or upgraded plus two schools where high or middle schools were demanded. There were no doctors in health institutes and not enough staff and teachers in schools. There were several schools where they were five teachers for two students and many schools even lacked basic infrastructure. Retired officers hired by Chief Ministers Office ruled the roost in Congress regime. I presume that the Congress was not able to digest the defeat and were issuing statements out of mere frustration, said the Chief Minister.
The Chief Minister said that it was pathetic that since 2011 no Chief Minister came to this area and the Congress completely neglected the development and welfare of the people of Nadaun constituency. He assured that the present Government would leave no stone unturned for development of the area. He promised
"We will not work like Congress by making online announcements, inaugurations and laying foundation stones without budgetary provision"
He reiterated his resolve to completely wipe out Mining, Drug and Forest Mafia from the state and mentioned about the Guddiya and Hoshiyar helpline i.e. 1515 and 1090 respectively, besides launching Shakti App for safety and welfare of women.
He said that the previous government had left financial debt of Rs 46,500 crore, yet he personally believes that the Prime Minister Narendra Modi will help the State to come out of this debt. He said that the State BJP will give it best show in Lok Sabha elections in 2019.