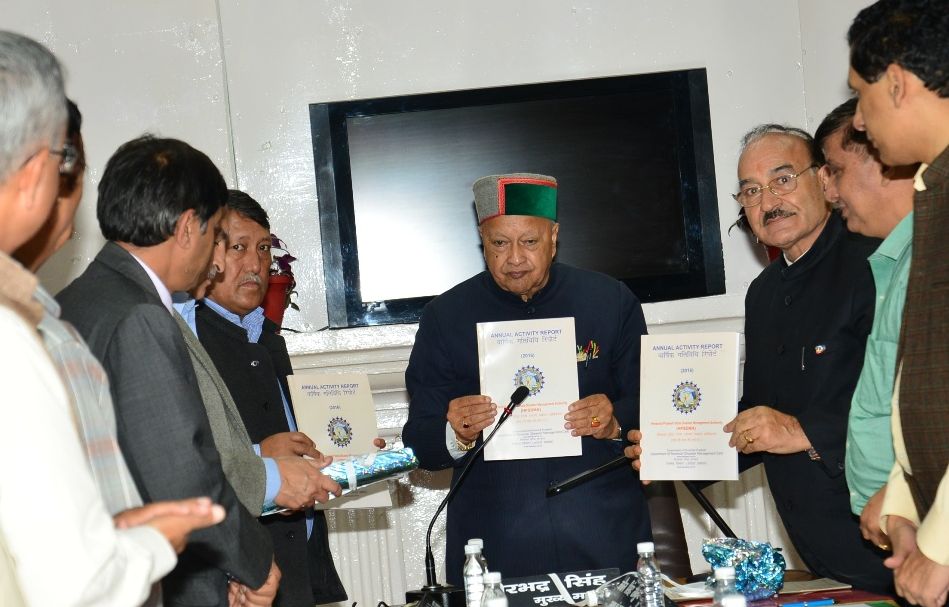 Heavy rain in the state has caused losses worth Rs. 634.87 crore. Chief Minister Virbhadra Singh, in a State Disaster Management Authority meeting, stated that during current monsoon 289 persons lost their lives out of which 68 died due to natural calamities and 221 due to accidents.
He asked to identify black spots on roads throughout the State and erect the crash barriers to avoid accidents.
The Chief Minister said Rs. 193.23 crore ( Rs. 63.23 crore by NDRF and Rs. 130 crore by SDRF) have been released during current financial year upto 31st August, 2017 to Deputy Commissioners and other departments to meet losses and damages suffered due to rains and other natural calamities.
Virbhadra Singh ordered proper by the police to take action against those using mobile phones while driving and also conduct alcoholic tests particularly during night time. He said that we require strict check on drunken driving and mobile phones while driving to avoid accidents as many cases of accidents were reported due to these two factors. He said that awareness drive may be launched all over the State.
The Chief Minister said that proper preparedness, planning and coordination amongst line departments should be made so that rehabilitation of affected persons could be done during natural calamities adding that the recent Kotrupi incident witnessed coordinated efforts of all the departments as well as local people also.
Revenue Minister Kaul Singh Thakur said that spots prone to landslides should be identified and suitable measures be taken to stable them. He said that Information, Education and Communication on disaster management may be collected.
Vice Chairman State Disaster Management Authority Rajender Rana, Chief Secretary V.C. Pharka, Additional Chief Secretary Revenue and DM Tarun Shridhar were present at the meeting amongst others.