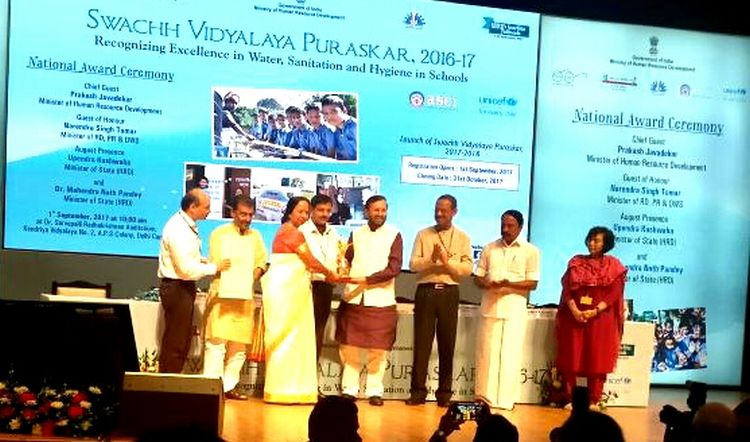 New Delhi: Solan district has been awarded 'Second Best Clean School Award' for 2016-17 at the national level. Deputy Commissioner of Solan Rakesh Kanwar received the award from the Union HRD Minister Prakash Javadekar at a function held at Dr S. Radhakrishnan Auditorium, Delhi Cantt in New Delhi, today.
The award was given under the 'Clean India-Clean School' initiative that is "Swachchh Bharat- Swachchh Vidyalaya Prayas".
Rakesh Kanwar informed that Solan district had been selected among the 11 best districts across the country for school sanitation. Among these 11 districts, Solan district was placed at number two in the country. He said the district has also been awarded another national award for being the best district of the country.
Kanwar has said that Government Senior Secondary School, Bhatis in Nalagarh sub-division was also given the 'Clean School Award' and was one of the top 172 schools in the country.
More than 2, 68,402 schools from 35 States and UTs had participated, in an online mode. Of these, 2.68 lakh schools completed the self-assessment process. Out of 643 schools shortlisted by the states, 172 schools have been selected for the National awards for Swachh Vidyalaya Puraskar 2016-17.
Prakash Javadekar congratulated the winners of Swachh Vidyalaya Puraskar 2017-18 and said the students are 'cleanliness ambassadors,' and they will lead the vision of Clean India of Prime Minister Narendra Modi.
The Department also released Standard Operating Procedures (SOPs) for Swachhta in schools and started registration for Swachh Vidyalaya Puraskar 2017-18 from 1st September, which coincides with the commencement of Swachhata Pakhwada for the Ministry. The registration for Swachh Vidyalaya Puraskar 2017-18 closes on 31st October and is open to government, government aided and private schools as well.