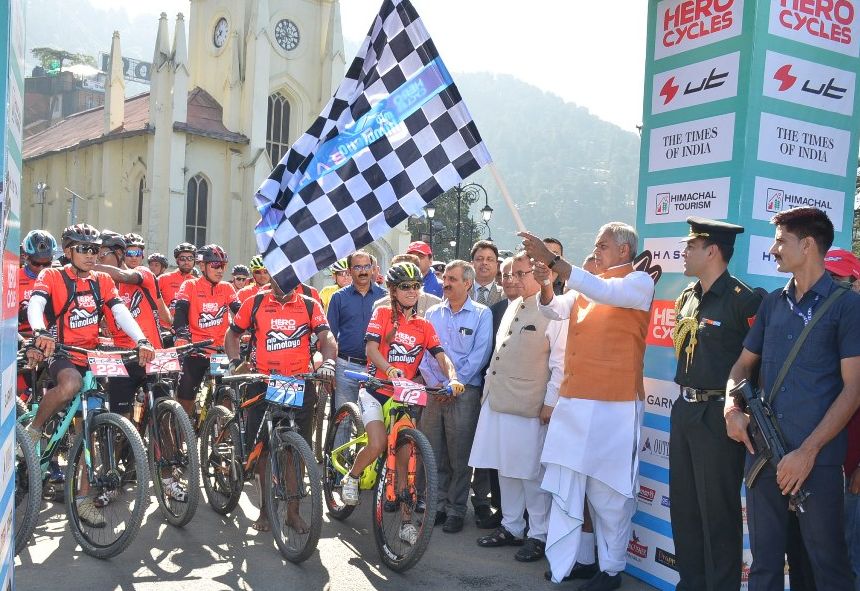 Shimla: Governor Acharya Devvrat flagged off Hero MTB Himalaya here today. The cycling competition is being organized by Himalayan Adventure Sports and Tourism Promotion Association (HASTPA) and Hero Cycles.
The race comprises of an exciting and excruciating nine day journey ahead from Shimla to Dharamshala. As many as 91 riders from 17 countries are participating in the rally.
The Governor urged the riders from India to promote the Indian culture amongst their fellow international riders. He said
"Pollution is not just of the environment but also of thoughts, and I request all the Indian national riders who will be taking on this journey of MTB Himalaya to promote our culture amongst the international riders."
He thanked the international riders for promoting pollution-free transport as a means of travel and encouraging them to have pollution free and environment friendly trip.
The Governor also honoured national champions Akshit Gaur and Ashish Sherpa on the occasion.
Local MLA Suresh Bhardwaj commended HASTPA and MTB Himalaya for promoting cycling as a sport to retrieve the environment of the state.