Association for Democratic Reforms (ADR) has reported that income of BJP and INC (Congress) from unknown sources (income specified in the IT Returns whose sources are unknown), was Rs 646.82cr.
BJP's income from unknown sources was Rs 460.78 crore while that of INC was Rs 186.04 crore.
The findings are based on an analysis of the two parties' income and expenditure data submitted to the Income Tax Department and the Election Commission of India.
BJP has collected maximum funds under "Voluntary Contributions". As party has collected Rs 459.56 cr under "Voluntary Contributions" i.e. 80.5% of the total income of BJP. Whereas for Congress the most preferred unknown source of funding was "Sale of coupons" under the party collected a total of Rs 167.96 cr which formed 25.97% of the party's total income from unknown sources during FY 2015-16.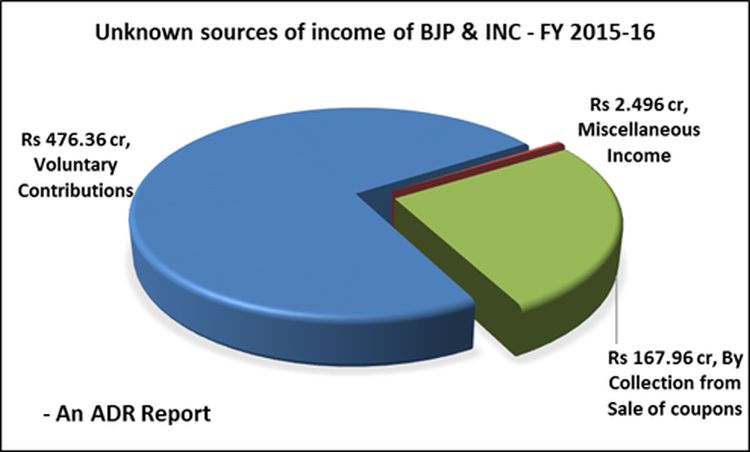 ADR report read that total income of BJP and Congress during FY 2015-16 was Rs 832.42 cr and out of which income from known donors was only Rs 97.27 cr, which is 11.69 % of the total income of the 2 National parties during FY 2015-16.
ADR said the total declared income of the BJP and the Congress stood at Rs 570.86 crore and Rs 261.56 crore, respectively, in 2015-16.
"Total income of seven national parties for 2015-16 was Rs 1,033.18 crore, of which the parties spent Rs 754.45 crore and declared an unspent amount of Rs 278.73 crore (26.98 per cent unspent of total income)," the report added.

Among the seven national parties, the report said the BJP had the highest total income at Rs 570.86 crore in 2015-16, followed by the Congress at Rs 261.56 crore, the CPM (Rs 107.48 crore), the BSP (Rs 47.39 crore), the Trinamool Congress (Rs 34.58 crore), the NCP (Rs 9.14 crore) and the CPI (Rs 2.18 crore).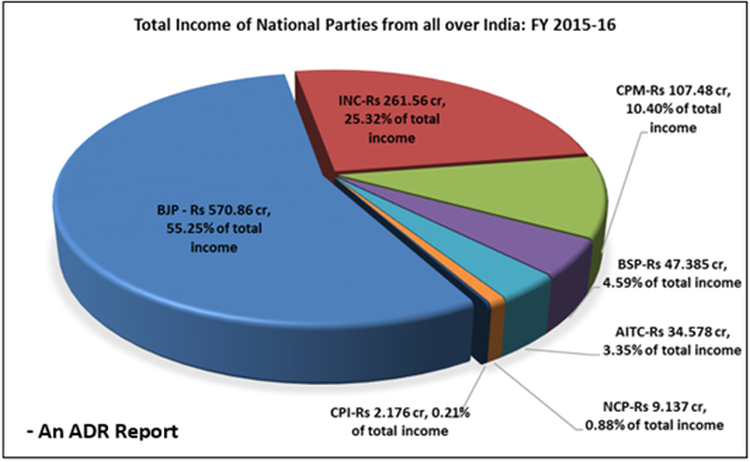 ADR also revealed that only CPM, AITC and BSP had submitted their audit reports before due date that was 30th Oct,'16, while BJP submitted its audit report on 29th May, 2017 and Congress on 11th July, 2017, almost six months after the due date for submission. The CPI submitted its report in November and NCP submitted its audit report in March 2017.
To ensure financial transparency and accountability on the part of the political parties, ADR has demanded strict mechanism with respect to reporting of financial information. Demanding standardized procedures and reporting framework to ensure that a true picture of the financial position of the political parties, ADR seeks to enforce political parties to make full detail of donors available for public scrutiny under the RTI.
The Institute of Chartered Accounts of India has already put forward a set of recommendations on the request of the Election Commission of India (ECI). These recommendations relate to a standardized and comprehensive reporting framework of financial statements of political parties. However, ECI has failed to implement these recommendations, despite government's claims of endeavour of providing transparent and clear government.