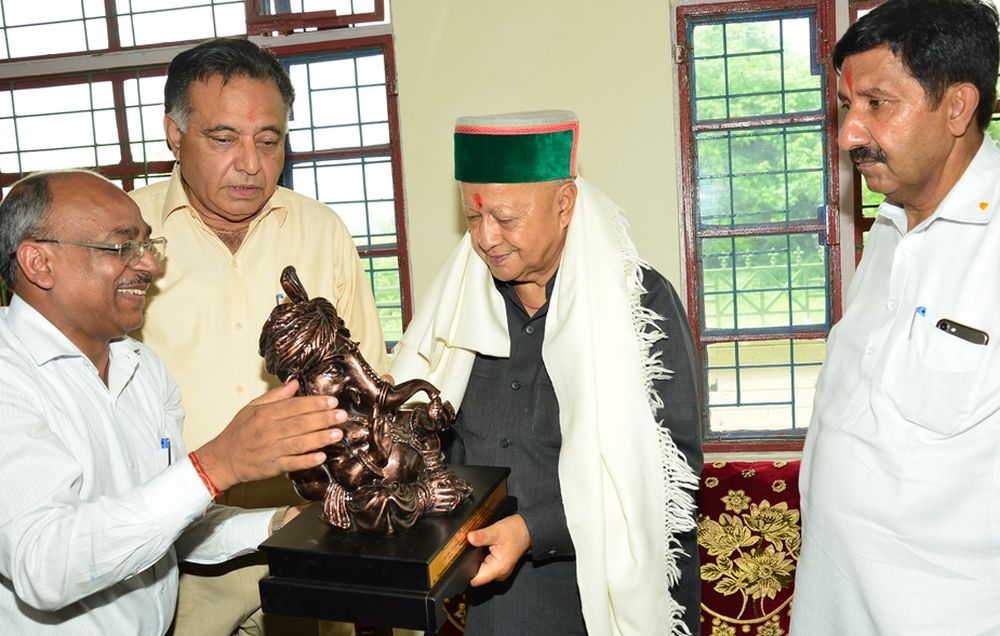 Samoor-Kalaan/Kutlehar: With the state elections around the corner, Veteran Congress leader and Himachal Chief Minister Virbhadra Singh has asked cadre to remain committed to party under all circumstances and not behave like 'Aaya Ram and Gaya Ram'.
Virbhadra Singh, while addressing a public meeting at Samoor-Kalaan in Kutlehar assembly constituency of district Una today, asked party cadre to be disciplined and stand by the party during the elections and not to be swayed away by the false promises of opposition or any other person.
The people of the Kutlehar should support the candidate whom the party will give ticket, Singh said. He further added
"the BJP did not win elections from Kutlehar on its own, but due to friction between Congressmen in the party. This is high command to decide as to whom ticket was to be given. Every Congress man should abide by the decision of the Congress high command"
Though there were many aspirants for party ticket in the constituency, but whosoever got the ticket, it became moral responsibility of all to back up the party candidate, he advised party cadre. He exhorted the party-men to set an example by winning Kutlehar assembly election. He advised
"after the candidature for elections is announced, the people should extend support to the candidate and not try to stand in parallel in competition. We will be at loss if we indulge in infighting and should stand united for victory"
The Chief Minister claimed the government has ensured even development of the state and even paid special attention to the areas having MLAs from the BJP, as opposite to BJP Government, which when comes to power, focusses its attention on developing the areas having their party MLAs. Targeting opposition, the Chief Minister stated
"The BJP believes in autocracy and not in democracy. They believe in regionalism and character assassination and spread false propaganda"
Earlier, the Chief Minister along with Transport and Technical Education Minister GS Bali and Industries Minister, Mukesh Agnihotri inaugurated Rs 1.63 crore Bus Stand at Dulehar in Haroli constituency and laid foundation stone of new block of Government Senior Secondary School at Dulehar completed with an outlay of Rs 3.23 crore. He also inaugurated the Industrial Training Institute at Pubowal completed with an outlay of Rs 2.66 crore, inaugurated Rs 69.20 lakh Primary Health Centre along with doctors residence at Palkwah, inaugurated the Mini secretariat building at Haroli completed with an outlay of Rs 7.60 crore and also inaugurated the football stadium at Khad on which a sum of Rs 96 lakh has been incurred.
Later, he also inaugurated the additional accommodation of Government High School Paroian-Kalan completed with a cost of Rs.54.33 lakh and a building of Primary Health Centre and doctors residence at Raipur Maidan on which a sum of Rs.86.76 lakh has been incurred.
The Chief Minister also laid foundation stone of Lift Water Supply Scheme for Gram Panchayat Dhanet, Palata and Deehar to cost Rs 6.63 crore, to benefit a population of around 7000 of 32 villages. He performed Bhoomi Poojan of Olinda-Bohru road to cost Rs.4.45 crore to benefit six villages viz: Olinda, Choukhath, Bohra, Churari, Salangari.