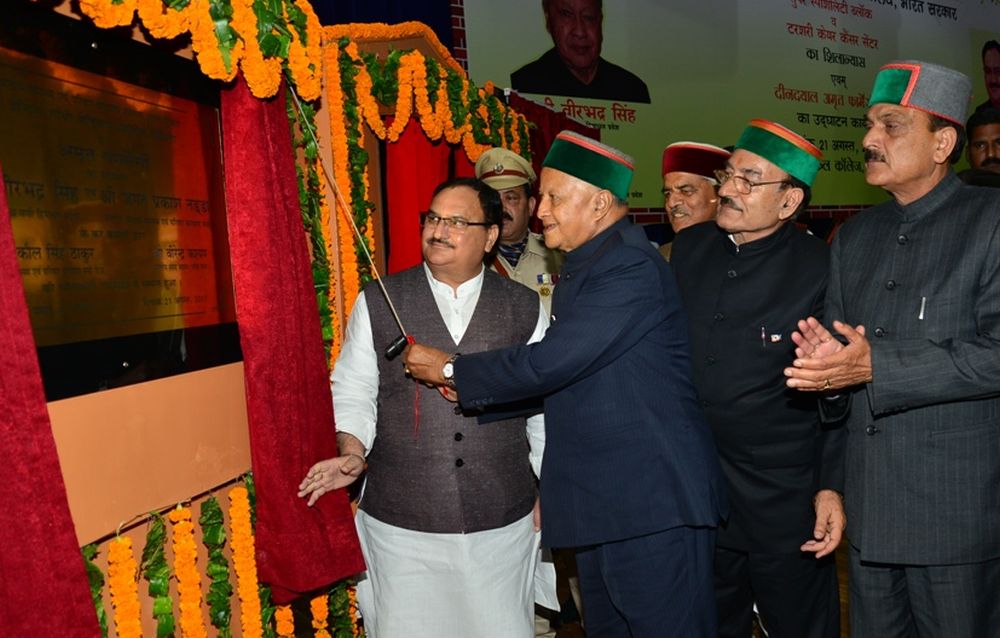 Giving rest to all speculation, the State Government has decided to introduce the Medical University Bill in upcoming Vidhan Sabha session commencing from tomorrow.
Chief Minister Virbhadra Singh, while addressing on the occasion of inauguration of Affordable Medicines and Reliable Implants for Treatment (AMRIT) Pharmacy outlet and foundation stone laying ceremonies of Super Specialty Block of IGMC and Tertiary Care Cancer Centre at IGMC today, thanked the Union Health Minister for the assistance strengthening health infrastructure in the state.
He said that the government was committed to modernise the health services so as to provide quality treatment and best medicines to the patients and the people of the state.
Virbhadra Singh said that lots of technological advancements had been made in health sector and the students' needs to be updated with these most recent techniques. Hence, it becomes necessary that we should equip our medical colleges and hospitals with latest gadgets and equipments. The latest gadgets improved the efficiency and creates confidence in the medical fraternity.
The Chief Minister said that Himachal Pradesh had become the first State in South East Asia to launch six new health schemes, including Electronic Health Card, scheme for free insulin for diabetic patients below 18 years of age under universal immunization programme.
Union Health Minister JP Nadda said the Union government had decided for early detection and universal screening of cancer besides other tests of various diseases. It would be made mandatory for every Indian citizen, of 30 years of age, to undergo universal screening for cancer which would be introduced within two or three months.
He said that the Union Ministry of Health had provided two tertiary care Cancer Centre for Shimla and Mandi costing Rs 45 lakh each and the foundation stone of Tertiary Care Cancer Centre at Mandi would be laid soon.
The AMRIT shops were opened to provide relief to the patients by providing them the medicine at 60 to 90 percent subsidy and will purchase these medicines directly from the manufacturers,
He said that AMRIT outlets would be digitally managed and the one opened in IGMC was the 100th. Though AMRIT, we have provided relief of around 170 crore to as many 32.65 lakh patients by providing them cheap medicine. He said that the medicine worth Rs. 300 crore were sold to patients for Rs.130 crore thereby benefitting them by Rs. 170 crore.
Congratulating the faculty he said that 87 super specialty blocks had been adopted by Union government in the country so far and the super specialty block at Chamiana will house new specialty wings as cardiology, Renal transplant, plastic surgery, pediatric surgery, nephrology, neurology, neuro surgery, gastroenterology, etc. Besides, nine modular operation theatres would be there with cameras installed to enable the students to view the operations live while sitting in their class rooms. We will complete this super specialty block within two years he said, adding that 18 post graduate seats would be enhanced for the super specialty block, Chamiana.
The Minister said that the Union Government was interested for starting Pradhan Mantri Dialysis Yojna in the state even at sub-divisional level and the rates would also be freezed for common man besides providing free dialysis for BPL patients. The Union Minister urged the state government for submitting the proposal to Union Health Ministry as soon as possible.
He said that the stent which used to cost around rupees one lakh would now be replaced at the cost of Rs 12, 600 and the stent which was provided at the rate of rupees two lakh would now cost Rs 29,600. He said that the knee replacement which used to cost Rs. 1.60 lakh would now be available at Rs. 54,700 and the improvised replacement of knee which used to cost Rs. 2.05 lakh would now be available at Rs. 76,600. The prices have been freezed to benefit the common man and the poor.