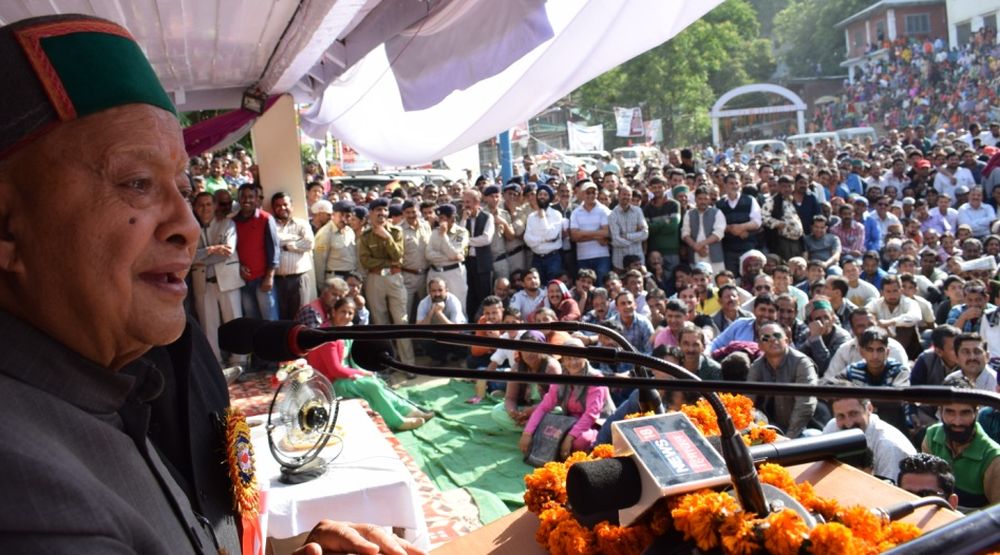 Chopal: Fulfilling long standing demand of the people of Sarahan area of Chopal assembly segment, Chief Minister Virbhadra Singh announced to take over the Sanskrit College, Sarahan being run by private body, for proper functioning of the college.
The Chief Minister, while addressing a public meeting on concluding of Chopal Utsav, said that two degree colleges and one Sanskrit college in Chopal would strengthen the education network in the district by taking education to the remotest corner of the district.
Virbhadra Singh also laid foundation stones of building of Government College and directed to start classes immediately to assure facility for needy students of the region.
He also laid foundation stone of a shopping complex at Chopal and Rs. 7 crore lift irrigation scheme to Kuthar Basadhar area of Balson region of Theog tehsil.
Singh, in his address, reiterated his government commitment of providing education upto the remotest and far flung areas of the State.
The Chief Minister announced Mini Secretariat, Kabaddi Sports Hostel and new building for the ITI, Chopal.
Hailing a contribution of Chief Minister Virbhadra Singh Chairman, APMC Dr. Subhash Manglate credited development of the region to him. PCC secretary and Congress ticket hopeful Rajneesh Kimta also credited Singh for the development and cautioned people of the region not to fall in the trap of opportunists.
Earlier, Virbhadra Singh was given warm welcome at newly constructed helipad at Syal near Chambi, where he was greeted by hundreds of locals. But most of them were dejected as Chief Minister left the place without even listening to them.